A slow economic recovery marked by the unknown impact of federal sequestration cuts were dominant factors in the restrained first draft of Fairfax County's $7 billion budget for fiscal year 2014.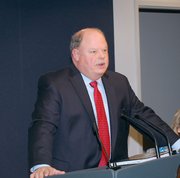 Fairfax County Executive Edward L. Long Jr. unveiled his $7 billion budget proposal Tuesday, Feb. 26, calling for a two-cent increase in the real estate tax rate, which would raise taxes by $260 for the typical household. Each one-cent increase in the real estate tax rate equals $20.65 million in county revenue.
For Fairfax County Public Schools—which receive nearly 75 percent of its funding from the county—Long recommended a total transfer, which includes school debt service, of $1.89 billion, an increase of $33.7 million or 2 percent over this year.
"We are also forced to recognize the significant yet unknown impact that is expected from federal sequestration and the continuing challenges of a slowly recovering economy."
—Fairfax County Executive Edward L. Long, Jr.
THE PROPOSED COUNTY BUDGET also includes $67.9 million in additional support to FCPS for services including Head Start, school resource officers, crossing guards and recreational programs, among others.
"We have heard from residents that we should continue with current service levels and program delivery, which we maintained through the last few years of the recession by downsizing effectively and responsibly," Long said during a news conference Tuesday.
Budget Public Hearings—When and Where
Public hearings on the proposed FY 2014 budget are scheduled:
Tuesday, April 9, at 6 p.m.

Wednesday, April 10, at 3 p.m.

Thursday, April 11, at 3 p.m.
Those wishing to speak at a public hearing can sign up online to place their name on the speakers list, or contact the Office of the Clerk to the Board at 703-324-3151, TTY 703-324-3903. The public hearings will be held in the Board Auditorium, Fairfax County Government Center and will be televised live on Fairfax County Government Channel 16. The Board of Supervisors will adopt the county's FY 2014 budget on April 30. For the schedule of the Board of Supervisors town hall meetings on the budget, go to www.fairfaxcounty.g….
"Moving forward, we must put in place a longer-term focus on investment in the county's future, which requires constrained spending and strategic funding priorities. We are also forced to recognize the significant yet unknown impact that is expected from federal sequestration and the continuing challenges of a slowly recovering economy," Long added.
Long noted that the residential equalization—or change in assessments of existing residential property—increased 3.5 percent from last year. Residential real estate revenue accounts for approximately 74.4 percent of the county's tax base. Nonresidential values remained flat, increasing only 0.14 percent in FY 2013.
"Despite growth in residential real estate revenue, funding decisions made last year make it critical for us to be constrained in our spending," Long said.
Long's budget also included proposed county agency reductions of $20.52 million, including the elimination of 91 merit positions, as well as no increases in employee compensation for FY 2014. Funding for major human services and public safety would remain steady.
Long said his plan includes targeted "surgical" reductions rather than radical cuts that would eliminate programs and close facilities.
"We spent a lot of time going through each and every agency," he said Tuesday. "If you look at the 500 positions we've eliminated over the past five years, I think the heavy lifting on cuts has been done."
"We are not yet out of the woods as we recover more slowly than we would like from the great recession," Board of Supervisors Chairman Sharon Bulova (D-at-large) said in a statement. "County revenue projections are essentially flat and contributing to our challenge is the effect that sequestration will have on our economy. Already our commercial tax base is negatively affected by inaction on the part of Congress."
THE PROPOSED BUDGET includes a $2.4 million balance for the board's consideration to address "high priority" requirements in FY 2014 or to be held in reserve for FY 2015. The county executive's budget also includes a multi-year budget framework for FY 2015, which currently has a projected budget shortfall of $39.7 million. The multi-year budget approach, according to Long, allows the county to address challenges on a longer-term basis, even though the Board of Supervisors is still required to make budget and appropriation decisions on an annual basis.
"There's some optimism out there, we just need a little more clarity from federal government," Long said.