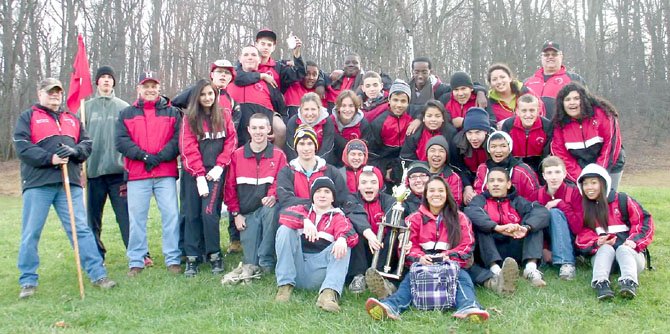 Herndon High's Navy Junior Reserve Officers Training Corps (NJROTC) cadets are actively preparing for the Orienteering National Championship, to be held on Feb. 16 and 17 at the Patuxent River Park in Upper Marlboro, Md. Although a little closer to home than last year's championship, the cadets are just as excited about the competition, as they go into it with more experience and a better area ranking. They recently finished fourth in the Area Five Orienteering Championship, where they competed against 26 schools from Virginia, Maryland and the District of Columbia.
Preparation for the National Championship will include running several more orienteering courses of graded levels of challenge. As courses increase in difficulty, they require more advanced skills in locating hidden checkpoints using only a map and compass as well as more physical strength and endurance. Cadets often find themselves crossing rivers, scaling steep hills and running as quickly as they can—in the right direction—for miles over rough terrain.
For more information about Herndon High's NJROTC program, visit http://www.herndonnjrotc.com/.