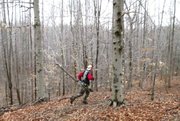 After a grueling, two-day skill and speed competition at Patuxent River State Park, Upper Marlboro, Md., Herndon High School's Navy Junior Reserve Officers' Training Corps (NJROTC) cadets defeated 19 of the best orienteering programs in the nation to finish eighth. The Feb. 16 and 17 NJROTC
National Orienteering Championship hosted 27 schools, all of which had earned invitations by placing in the top three in their respective areas. Despite the frigid temperature intensified by wind and sleet, teams from coast to coast enjoyed showcasing their members' physical strength and endurance as they navigated miles of rough terrain in search of hidden checkpoints, which they located using only maps and compasses.
An outstanding accomplishment for a team of only two years in the making, Herndon High's eighth place finish trumped its 11th place finish last year. It also highlighted its growing potential. The varsity team finished third on Sunday, for a two-day ranking of seventh, and the junior varsity and intermediate teams earned 11th and eighth place finishes, respectively. Of note, Cadet Virginia Murphy placed fourth among all varsity women, and in the larger varsity men field, Cadets Marshall
Wilkins and Alastair Young came in the top 30. Additionally, Cadet Nick Linton earned 12th out of 120 junior varsity athletes, and Cadet Chris Geis placed 15th out of 66 intermediate competitors. The team is already planning to run additional courses in preparation for next year's event, to be held in Georgia or Southern California.
For more information about Herndon High's outstanding NJROTC program, which sponsors a variety of competitive teams, please visit http://www.herndonnjrotc.com/.