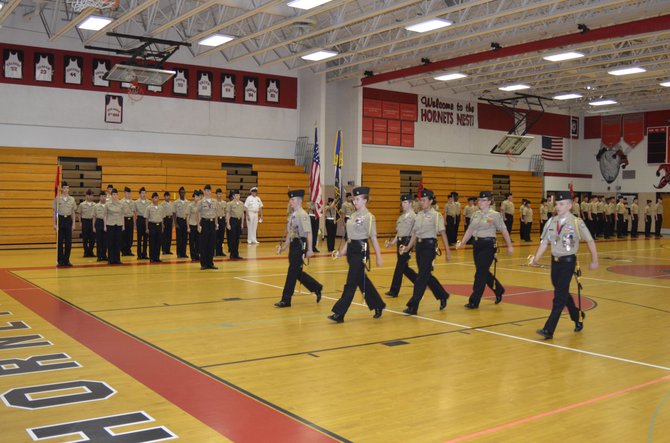 Herndon High School's Navy Junior Reserve Officers Training Corps (NJROTC) changed its command, honored its cadets, and bid farewell to its graduating seniors. The memorable evening included good food and reflection as well as the precision and formality one would expect from an outstanding NJROTC program with much to celebrate.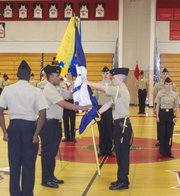 The NJROTC unit earned top placements in its many physical training competition meets, the Captain Blakeman NS-1 Drill Meet, the Area 5 and Navy National Orienteering Championships, and the Fairfax County JROTC Rifle Team Championship, in which it earned first place and set a new league record. These hardworking young men and women also experienced a multitude of leadership opportunities as they ran their 100-plus cadet unit and related events, and they served their community by raising money for the American Cancer Society, collecting food for LINK, cleaning area roadways and presenting colors for various services and memorials. Amid all of this hard work, they even found time for an eye-opening orientation trip to Chicago, Great Lakes and Dayton and for a Military Ball aboard a cruising ship in the Baltimore Harbor.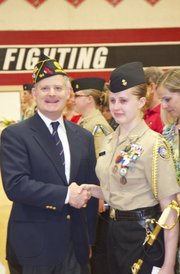 Before honoring seniors with a full unit pass-in-review and piping over the side, CDR Richard Cassara, US Navy (Ret.), took one last opportunity to stress his high expectations of his cadets, to congratulate seniors for their leadership and innovation, and to impress upon them the importance of continuing to do their best. He, MSCS (SW) John Maness, US Navy (Ret.), and some very special guests also recognized seniors and other cadets for sustained superior performance, military aptitude, dedication and leadership. Most noteworthy among the many awards presented are the following:
Distinguished Cadet (NS-1)—c/PO3 Allison Maxwell
Distinguished Cadet (NS-2)—c/PO2 Christopher Geis
Distinguished Cadet (NS-3)—c/LCDR Sean Sullivan
Distinguished Cadet (NS-4)—c/CDR Alastair Young
American Legion Military Excellence Gold Medal—c/LCDR Lauren Truese
Daughters of the American Revolution Medal—c/CDR Kathleen Ratana
Sons of the American Revolution Medal—c/CDR Alastair Young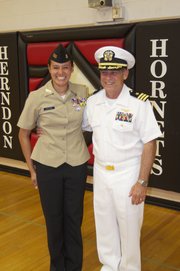 The Herndon Cadets thank Jared McDonald, 12th grade assistant principal of Herndon High; Eric Claunch, second vice commander of Herndon's American Legion Post 184; Dan Gillespie, post finance officer; Daniel Rolph, president of the Fairfax Resolves Chapter of the Sons of the American Revolution; Marnie Turman, first vice regent of the Cameron Parish Chapter of the Daughters of the American Revolution; and the many dedicated booster parents for making the Change of Command and Awards Ceremony memorable.
For more information about Herndon High's outstanding NJROTC program and its tenants of honor, courage and commitment, please visit http://www.herndonnjrotc.com/.