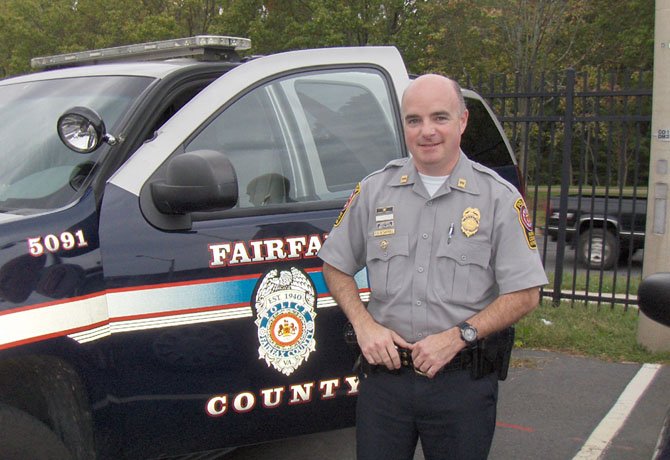 For police Capt. Ed O'Carroll, taking command of the Sully District Station was like coming home again. He served as a shift supervisor of the evening squad when the station opened in May 2003; and for four months now, he's been in charge.
Actually, he's served his community since he was a teenager. "I've always had an interest in public safety and helping people," said O'Carroll.
Born and raised on Long Island, N.Y. — the youngest of eight children — he became CPR-certified at age 14. He joined the rescue squad in his hometown when he was 18 and, by age 20, he was an EMT assistant chief while attending college.
Meanwhile, he'd applied to Fairfax County, which in 1988 was doing an employment outreach in New York. "That enticed me," said O'Carroll. "And my brother used to live in Chantilly, so I'd visited here and knew all this area had to offer."
He was accepted as a police cadet and, in August 1990, graduated from the county's police academy at barely 21 years old. Next came patrol assignments at the West Springfield and Franconia district stations. Then he served as the crime-prevention specialist at both stations.
In the early 2000s, the county launched several programs, including women's self-defense, Neighborhood Watch, victims of domestic violence, and Citizens Advisory Committees, home-security inspections and child safety, and O'Carroll eagerly participated.
"I loved it working with the local residents," he said. "It was truly engaging the community and empowering the Neighborhood Watch volunteers to assist in safeguarding their neighborhoods and partnering with police in successful crime-prevention strategies."
O'Carroll also served as president of the Virginia Crime Prevention Association and is still certified as a crime-prevention specialist. In 2002, he became a sergeant and led a midnight patrol squad at Franconia. The following year, he was working at the Sully District Station when it opened under Capt. Bill Gulsby.
"It was exciting to be here when the county launched a new station and a new area," he said. "I vividly remember leaving that first day to patrol the Sully District — it was a thrill."
In 2005, O'Carroll became an auxiliary police coordinator in the Traffic Division, overseeing the police department's volunteers. Then he was promoted to first lieutenant and, in 2006, he went to the Resource Management Bureau, overseeing the purchase and deployment of police vehicles and equipment — uniforms and associated gear — everything but weapons.
"I also oversaw the safety and security of police facilities," he said. "That was in direct response to the May 8, 2006 shootings at the Sully District Station. [Two officers, Det. Vicky Armel and MPO Mike Garbarino, were shot and killed by a heavily armed, mentally disturbed teenager]. The county released $1 million and we made significant security enhancements. It was a busy and rewarding assignment."
O'Carroll next became assistant commander of the Fair Oaks District Station in 2007, leaving in 2009 to oversee the school resource officers (SROs). Within months, he was promoted to captain and, from January 2010 to September 2012, he was assigned to the Internal Affairs Bureau as commander of the Investigations Division.
"We investigated allegations of police misconduct and deployment of deadly force," he said. "Some 297 cases total were investigated by the seven detectives on my team. They were complicated and time-consuming and required extensive interviews. We also investigated any lawsuit against the police department."
But, said O'Carroll, "It's the right thing to do, and [our colleagues] understood our role and commitment to the community to uncover the facts of the case. It reaffirmed that we've got good, solid personnel in all ranks of the department — caring folks who put their lives on the line to protect strangers. And those who were found to have done wrong were dealt with accordingly."
In his own career, he said, "I've been on the scene of horrific traffic crashes and a first responder on murders and domestic or child-abuse cases. It's tough to not become hardened or desensitized to the violence and sadness. But I always maintain focus on the job task — maintaining aid and victim/survivor support, plus successful court prosecution."
"In 23 years with the county, I'm still committed to every call," continued O'Carroll. "And I encourage my officers not to be discouraged by the challenges we find in law enforcement."
He's also served for many years on the Peer Support Team, helping officers deal with both on-the-job and personal challenges and tragedies. And he's been involved in the hostage-negotiation team. Said O'Carroll: "In law enforcement, you never know what you're going to find around the corner."
He's also the proud father of a son, 15, and a daughter, 10. "As a family, we love taking cruises to the Caribbean," he said. "We've also gone on trips to the Grand Canyon, California, Florida and Maine."
In September, O'Carroll replaced the retiring Purvis Dawson as commander of the Sully District Station. "I was hoping to be selected for that position," he said. "I was excited to work with the good men and women here — including the sworn officers, the volunteers and the civilian personnel [comprising] the station's staff."
"They say there's no better assignment than being a district commander," said O'Carroll. "But we're a team, and all the officers and personnel engage well with the community. And having been here previously, I had a great insight into how supportive the community was. We have great programs here, plus a superior group of citizens and businesses that participate well with us in our community efforts."
He says this station has "always had a special place in my heart — both for being here the day it opened and for working on various squads and with the people here — so it's exciting to come back. And the experience I've gained since I left undoubtedly will help as I lead Sully in the years to come. I'm here for the long term."