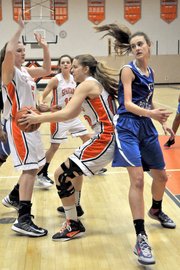 Springfield — The West Springfield girls' basketball team had officially blown an 18-point lead when West Potomac guard Tayla Dawson's bucket tied the score at 27-all late in the third quarter of Tuesday's contest at West Springfield High School.
In previous seasons, point guard April Robinson or forward Logan Battle would take control and lead the Spartans to victory. This year, however, both Spartan standouts have taken their abilities to the collegiate level --- Robinson to Duquesne, Battle to Georgetown --- leaving a young West Springfield team to learn under fire.
On this night, head coach Bill Gibson was without standout forward Amy Berglund, who missed the game due to illness. According to stats from the Washington Post's Web site, Berglund is averaging 17.6 points per contest, 10 points more than the team's second-leading scorer, Jasmine Taylor. Six-foot-2 post Lindsey Mares, who started as a junior last season, played sparingly as she returns from a major knee injury suffered last spring during a lacrosse game. The remaining Spartans, including four freshmen, needed to find a way to regain control in order to avoid the program's first three-game losing streak in at least nine years.
As it turned out, the Spartans would shoot their way to victory from the free-throw line.
WEST SPRINGFIELD scored the final 11 points of the game, all from the foul line, and beat West Potomac, 44-32, on Jan. 8. The teams combined for 51 turnovers --- 29 by West Springfield --- and neither team made field goal in the final six minutes of the game, but West Springfield secured the victory in part by going 26-for-51 at the free-throw line. West Potomac finished 10-of-19 at the line.
"What I think these games have taught us --- because they definitely have helped us --- is to show that just because we have the West Springfield jersey, doesn't mean we're going to win."

--- West Springfield senior Lindsey Mares
After winning its first 10 games, West Springfield lost to South Lakes, 42-34, in the championship game of the IAABO Holiday Classic on Dec. 28. On Jan. 4, the Spartans traveled to Alexandria and lost to T.C. Williams, 56-42, giving West Springfield its first Patriot District defeat since 2009. On Tuesday, the Spartans improved to 11-2, including 4-1 in the district, and avoided a three-game losing streak by beating West Potomac.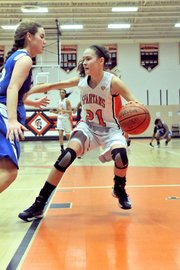 "We blew that game against TC," Gibson said. "We gave that to them. That happens. [With] young teams, things like that are going to happen. Tonight, we did a much better job maintaining composure."
The Spartans sure didn't make it easy on themselves.
West Springfield held West Potomac scoreless in the opening quarter and led 18-0 early in the second. But the Wolverines slowly chipped away the lead, trailed by six at halftime and tied the score on Dawson's third-quarter basket. West Potomac trailed 33-32 after a free throw by Maddy Zdebski with 4:37 remaining in the fourth quarter, but the Wolverines would not score another point.
Mares, who scored six points and grabbed two rebounds off the bench, said the last three games have been a learning experience for the youthful Spartans.
"What I think these games have taught us --- because they definitely have helped us --- is to show that just because we have the West Springfield jersey, doesn't mean we're going to win," she said. "It stinks that we have to lose for our team to realize that, but I know that with whatever we do, we just have to remember that we're fighting for this and it's not just going to come to us."
Mares tore the anterior cruciate ligament and medial collateral ligament in her left knee during a lacrosse game on April 30. She recently started to see playing time on the basketball court and Gibson said it is likely Mares will eventually rejoin the starting lineup. In the meantime, Mares, who credits her religious faith for eliminating her fear of re-injuring the knee, said it's difficult to watch from the bench during her limited role.
"Every time I see the girls play out there, I want to be out there helping them and contribute to the game," she said. "It's really hard, if we're down or something, it's hard for me to just sit there and try to be encouraging to them because I want to be out there fighting and playing with them."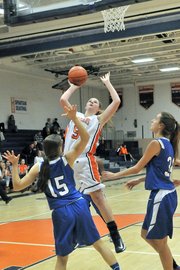 AGAINST WEST POTOMAC, freshman point guard Shelby Haynes led West Springfield with nine points. Haynes has taken over for Robinson, who is second on the Duquesne women's basketball team in scoring as a freshman and was recently named Atlantic 10 Conference Rookie of the Week.
"We're asking a lot out of her," Gibson said. "I told her it's going to be a lot of pressure and I'm going to get on your butt a lot. It's something that she wants to do it and she's got the head to do it, so it's a learning experience for her and she's trying to get better as she goes along."
Freshman forward Taylor scored seven points and grabbed seven rebounds for the Spartans. Junior guard Taylor Samuels scored six points, freshman guard Haley Blankinship scored two points and grabbed five rebounds, and freshman post Maura D'Anna scored three points and grabbed 12 rebounds.
"We've got a good group of freshmen," Gibson said.
West Springfield will host Woodson at 7:30 p.m. on Friday, Jan. 11.
"The team is so young and we have so much to learn," Mares said. "… I know we have the skill and the talent, we just need to mentally mature and get our heads together and keep composure when we're in tough games."