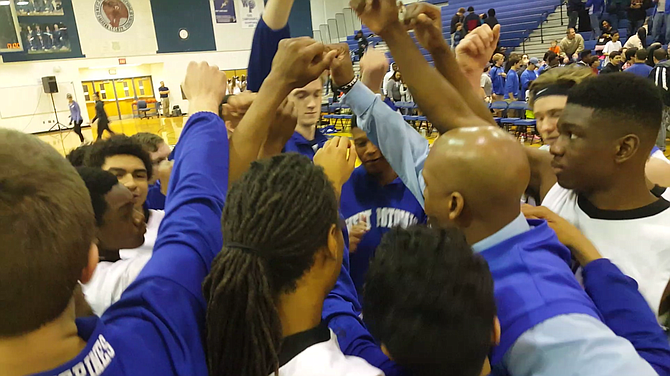 The West Potomac boys' basketball team is headed back to the conference championship game for the first time since 2010.
The Wolverines built a 15-point fourth-quarter lead and then held on for a 62-56 victory over Woodson on Saturday in the Conference 7 tournament semifinals at West Potomac High School. The win earned West Potomac a spot in the championship game, where it will face West Springfield at 3 p.m. today at South County High School.
"It feels good," West Potomac head coach David Houston III said. "We worked really hard and I thought we earned it. [Friday] was a tough one --- that was a tough win against South County --- and then Woodson's good."
On Friday, the Wolverines, the No. 2 seed, used strong defense and clutch shooting by freshman guard Daryl Mackey Jr. to overcome a late deficit and defeat No. 7 South County 57-55 in the tournament quarterfinals at West Potomac High School. A loss would have ended the Wolverines' season.
Now West Potomac is headed to the conference championship game for the third time in Houston's 12 years as head coach. The Wolverines won the Patriot District championship in 2010 and finished runner-up in 2008.
"We're a good team," junior guard Khalil Williams Diggins said, "so we should be there."
West Potomac senior forward Jamie Sara, a second-team all-conference selection, finished with 23 points and six rebounds against Woodson on Saturday.
"I knew they had one big guy, but after that, not much," Sara said. "I knew I could get inside …"
Williams Diggins, a first-team all-conference selection, scored 16 points and grabbed six rebounds for the Wolverines. Mackey had seven points, Da'Jon Bellfield finished with five points and eight rebounds, and Da'Juan Bellfield totaled five points and seven rebounds.
Next up for West Potomac (15-8) is a matchup with No. 1 West Springfield (20-3), which won its first 11 regular-season conference games before dropping two of its final three.
The Wolverines and Spartans split their regular season meetings, with each team winning on the road. West Springfield won 61-54 on Dec. 15, and West Potomac handed the Spartans their first conference loss of the season on Feb. 10, 59-53.
West Springfield is led by 6-foot-9 senior Lewis Djonkam, who can score points in the paint or make life easier for Spartan perimeter shooters by drawing defenders.
After beating Woodson on Saturday, the Wolverines knew they would face either Djonkam, a first-team all-conference selection, or 6-foot-8 Lake Braddock senior James Butler, the conference Player of the Year. The Spartans defeated the Bruins 61-59 on Saturday to advance to the tournament final.
How do the Wolverines deal with Djonkam's size?
"I've got tough kids," Houston said. "No matter what happens tomorrow, it won't be because we're afraid of guarding Lewis or guarding Butler. Both those guys are good, they can both score, they cause problems … but one game, anything can happen."