Achieving the rank of Eagle Scout is an honor few scouts attain during their years in the Boy Scouts of America (BSA). Since its introduction in 1911, the Eagle Scout rank—the highest rank attainable—has been earned by just two million young men.
"Because of all of these and so many more adventures and experiences, I feel that I am having the best scouting experience that anyone could ever imagine or ask for, and Merit Badges were just a part of it…"
--Gerry Souser
In December, Eagle Scout Gerry Souser went one step further.
During a Boy Scout Court of Honor for Troop 1115 at Immanuel Bible Church in Springfield, Souser, 17, was recognized for doing what fewer than 200 scouts have done in the BSA's 102 years. He earned all of the merit badges which were available to him during his tenure as a Boy Scout, and in his case that means 134 of them.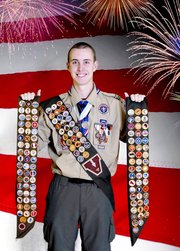 Scouting has been a part of Souser's life since he attended a Scouting Night for Pack 50 at Holy Spirit Catholic Church in Annandale, the week after 9/11. He joined Pack 50 as a Tiger Cub Scout and stayed with that pack through Webelos, earning all of the Webelos Activity Pins and his Arrow of Light award in 2006.
When it was time to move on to Boy Scouts, he joined Troop 1115 chartered by Immanuel Bible Church in March of 2006.
AT THE AGE OF 13, in January 2009, Souser became an Eagle Scout. The title of Eagle Scout is held for life, thus giving rise to the phrase "Once an Eagle, always an Eagle."
At the Court of Honor ceremony, Souser shared with his troop what this accomplishment and his experiences in scouting mean to him.
"My friends and family often ask why I love scouting so much and why I do crazy things for a little one inch piece of cloth," he said. "It is because of the experiences and what I learn about the world and myself. I value the time and story of orienteering in a hurricane much more than the orienteering patch. I value the lesson that I learned in perseverance more than my shotgun badge. I value the time I had with my friends and the memories we share more than the hiking patch. I value my scouting experience so much more than those [three] sashes."
"I cannot reiterate how rare this is for someone to do," said Shawn Anderson, scoutmaster of troop 115. "It takes a lot of planning, diligence and commitment from the scout more so than any other factor. Gerry earned his Eagle Scout five years ago and continued to stay really active in scouting."
By the time he became an Eagle Scout, Souser had earned 48 merit badges. Since he was only 13 at the time, his father challenged him to earn Eagle Scout for a second time, going through all of the rank requirements, earning another 21 merit badges.
By the time he had accomplished this, he had close to 80 merit badges and it was the Centennial year of BSA. That year, BSA brought back four historical Merit Badges which could only be earned in 2010 and Gerry chose to earn all four, bringing him within sight of earning 100 merit badges.
One year ago, Souser was within 25 merit badges of earning all that were offered by BSA, and with encouragement from his best friend Christian, he chose to set that goal.
The trail was not without difficulties. Along the way BSA added five more merit badges which could be earned before he turns 18. While working on the Backpacking Merit Badge, Souser and Christian needed to abandon a backpacking trek along the section of the Appalachian Trail which crosses the highest point in Maryland, yet went back to work to finish the requirements.
SOUSER PERSEVERED through the Shotgun Shooting Merit Badge, shooting 348 shells with his Merit Badge Counselor before attaining the required score for one of the requirements. Souser has also completed merit badges for which there were not previously identified Merit Badge Counselors in the local area. He found people with the skills, knowledge and experience, and asked them to become Merit Badge Counselors, providing opportunities for other scouts to explore these arenas.
As his father pointed out at the Court of Honor: "Gerry has climbed one mountain, found a great view, spied another mountain, and set his sights on climbing that one as well. Gerry has overcome several obstacles along the way from goal to goal, but each time he has been rewarded with an even greater view."
Souser said he may not always remember what he did in "Fingerprinting" or "Wood Carving," but he will always remember going to England for the World Jamboree, SCUBA Diving in the Florida Keys, and sitting in a meadow on a New Mexico night with his best friends as they look up "to stare in awe at the Milky Way and a meteor shower."
"Because of all of these and so many more adventures and experiences, I feel that I am having the best scouting experience that anyone could ever imagine or ask for, and Merit Badges were just a part of it," he said, adding: "In all reality I only get to wear my sashes for six more weeks before I age out. After that they will probably hang in my closet and I will see them from time to time and bring them out on occasion. But no matter how old I get, no matter what I do, no one can take away what I have learned about God, about the world, about people, and about myself. No one can take away those memories or those experiences that I cherish so dearly."