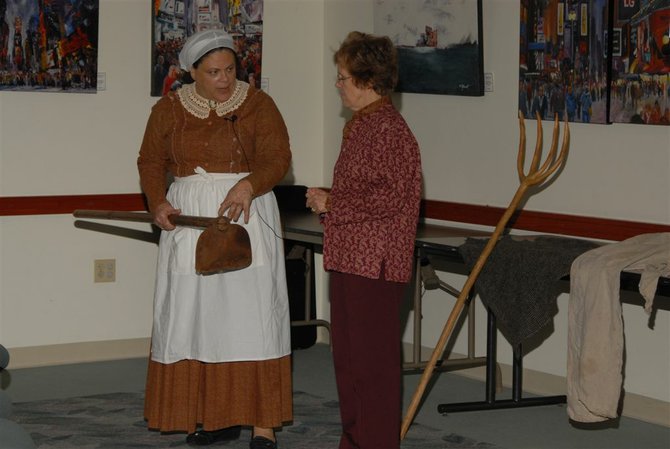 Marion Dobbins is a seventh-generation Virginian, born and raised in Fairfax County. As an African-American child, she sat at her grandmother's knee listening to the rich heritage of her ancestors. Her grandmother's stories of the past inspired her to become a professional historian.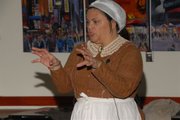 Dobbins's lecture, presented on Jan. 9 at the Great Falls Library, explored the role that slavery played in the plantation landscape of Northern Virginia and the hardships and triumphs of Reconstruction. She provided a hands-on approach to the issue of slavery in the upper South. She also explored the rich heritage of many of the early founders of African-American communities in Northern Virginia during Reconstruction, such as her great-grandfather, James E. Lee, Frederick Foote, Harriet Brice and others.
February Program: Conn's Ferry River Crossing
This presentation by Debbie Robison on Wednesday, Feb. 13, at 7 p.m. in the Great Falls Library Meeting Room explores events that occurred at the ferry crossing that was located in present-day Riverbend Park. During the earlier years of our history, the Potomac River acted as a physical barrier that required ferryboats to convey passengers across many sections of the river. This transportation challenge created opportunities for historical events to occur at the ferry. Robison will discuss incidents that occurred at Conn's Ferry, including events surrounding the 1793 yellow fever epidemic, the capture and escape of a Conn family slave, and brief remarks regarding James Madison's crossing of the river at Conn's Ferry during the War of 1812.
Robison is a preservation consultant who manages the historic preservation/restoration program for an architectural and engineering firm located in Herndon. She serves on the Fairfax County History Commission and is a member of the board of the Historic Centreville Society. She has written numerous articles about general aspects of Northern Virginia's past and the history of specific sites. To promote preservation and facilitate local history education, she hosts a history website http://www.novahi...">http://www.novahi.../ and Facebook page titled Northern Virginia History Notes.
Dobbins's heritage includes a white great-great-grandfather, a freed African American great-great-grandmother on one side, and slave great-great-grandparents on the other. She was, indeed, every-woman—slave and free, black and white—and she presented her material in a clear, factual, and experiential manner, free from guilt or blame, allowing the audience to experience the realities of slavery with a clear and unbiased receptivity.
Dobbins is a professional historian and Living History Interpreter for Thomas Jefferson's Monticello. She has also worked with historians at Colonial Williamsburg, Gunston Hall, Sully Historic Site, Colvin Run Mill, and the National Park Service's Manassas Battlefield. She is a board member of the Tinner Hill Heritage Foundation, which works to raise awareness of the contributions of African Americans to local development. Dobbins recently graduated with honors from the University of Virginia. She is currently a graduate student at George Mason University, majoring in United States history.