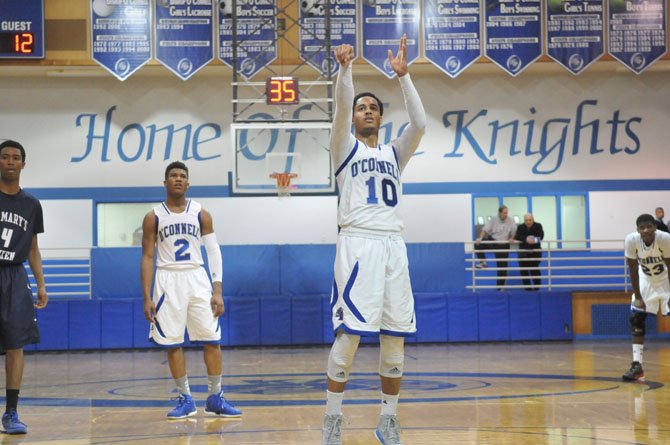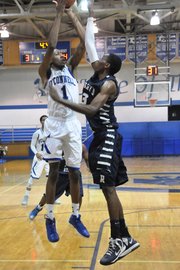 Arlington — Bishop O'Connell sophomore Roy Butts, listed at 6 feet 7, reached a long arm in the air and blocked an opponent's shot attempt without leaving his feet during the third quarter of Sunday's 75-49 victory against St. Mary's Ryken at Bishop O'Connell High School.
Much like Butts' effortless defensive play, the Knights have been dispatching opponents with relative ease this season. A 49-34 victory against Archbishop Carroll on Tuesday improved O'Connell's record to 18-3, including 11-0 in the Washington Catholic Athletic Conference Fourteen of O'Connell's victories were by at least 10 points and eight wins came by at least 18 points. But things haven't always been simple for the Knights, whose success comes one season after the program posted a losing record. Butts started as a freshman on last season's Bishop O'Connell boys' basketball team that finished with a 14-18 mark. The Knights were a young, talented group that lost 12 games by nine points or less, with eight defeats coming by six or fewer points.
One year later, O'Connell's starting lineup includes three juniors and a sophomore, but the Knights' experience is paying dividends. Factor in the contributions of 6-foot-7 senior transfer Junior Etou and O'Connell is playing like one of the top teams in the Washington, D.C.-metro area. O'Connell is ranked No. 1 in the latest Virginia Independent Schools Athletic Association's top 10 poll and No. 2 in the Washington Post's top 20. The Knights' three losses have come against teams from Illinois and Pennsylvania.
"I really compliment these kids," O'Connell head coach Joe Wootten said after Sunday's victory. "Rather than do anything else, they just learned from [last season's struggles]. They grew from it and they're better because of it."
"I really compliment these kids. Rather than do anything else, they just learned from [last season's struggles]. They grew from it and they're better because of it."

— O'Connell boys' basketball coach Joe Wootten
A major reason for O'Connell's success is the play of junior guard Melo Trimble, who is committed to the University of Maryland. According to stats from the Washington Post's Web site, Trimble averaged a team-high 19.1 points through 20 team games. After back-to-back 30-plus-point performances against Cathedral and Good Counsel, Trimble finished with 11 against St. Mary's Ryken, but Wootten was pleased with how Trimble shared the basketball, crediting him with nine assists.
"Melo's had [consecutive games] of 30 points and I thought he was so unselfish tonight," Wootten said. "He just gave it up. … He just did an unbelievable job on that."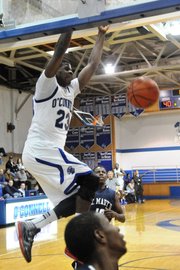 Trimble said this year's team is "more coachable and more mature" and has a different thought process.
"Last year, when we were losing, that's all we thought about was losing," he said. "We didn't think about winning."
Butts was third on the team at 9.8 points per game, according to the Washington Post. The left hander scored a team-high 20 points against St. Mary's Ryken.
"He started last year [and] took his lumps as a freshman," Wootten said, "but [he] really came on and made all-tournament at the Beach Ball [tournament in Myrtle Beach, S.C., in late December] and has really played well since then."
The addition of Etou has also helped the Knights. The senior transfer averaged 15.6 points through 20 team games, according to the Washington Post, and finished with 14 against St. Mary's Ryken. He's also a rebounding and shot-blocking force at the defensive end of the floor.
"He loves to play. He's a competitor. Just from the intangible aspect, that's been huge for our team," Wootten said. "He's a leader. Those three things, it was a perfect infusion with the guys that we had returning. Obviously, from a skill standpoint, [he's a] great shot-blocker, can score around the rim and [is] just an unbelievable defender and rebounder."
On Jan. 22, deadspin.com reported that Junior Etou, originally from the Republic of Congo, is 20 years old, which would make him ineligible to play for the Knights. Wootten denied the report in an interview with the Washington Post, saying O'Connell has the legal documentation proving Etou is 18. After Sunday's game, Wootten called it a "dead issue," adding "we all knew the truth."
Etou said this season has been a pleasant one at O'Connell.
"They're good teammates," Etou said. "… I really enjoy playing with this team."
The Knights will travel to face Paul VI at 7:30 p.m. on Friday, Feb. 1.
With success comes pressure, and Trimble said the Knights have to be ready for each opponent.
"We've just got to respond to every game because we know everybody wants to beat us," he said. "We're just going to have to show them they can't."
Wootten said O'Connell has handled the spotlight well.
"We're undefeated in the toughest league in America," he said. "Obviously, there are a lot of games to be played, but [the players have] been excited to play. Even tonight, [against] a team that we've beaten before, they were ready to play, they were excited, they were fired up [and] they're clapping it up. They really love to play and I think that's the sign of a good team."