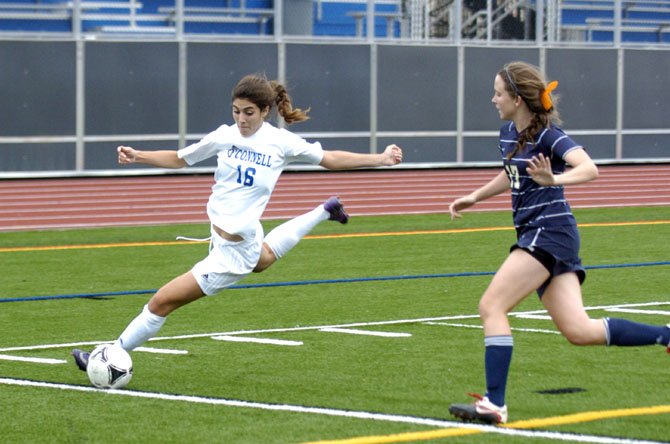 Arlington — The Bishop O'Connell girls' soccer team didn't need long to generate a scoring opportunity in its Sept. 28 match against Georgetown Visitation. The Knights sent a shot goalward less than 2 minutes into the contest, only to be stymied by the Visitation keeper.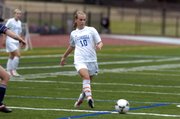 "Oh my goodness," O'Connell head coach Alberto Starace said from the sideline, seemingly in disbelief that the Knights came up empty.
O'Connell senior midfielder Kara DeGuisto would eventually find the net, scoring off a corner kick from senior striker Morgan Reuther in the 35th minute, but the rest of the contest was filled with frustration for a Knights team accustomed to putting a few on the board.
O'Connell and Visitation played to a 1-1 draw on Friday at the Knights' Monsignor James W. McMurtrie Field. While the Cubs capitalized on one of their few opportunities, scoring in the 13th minute to take a 1-0 lead, the Knights were left feeling like they didn't play up to their potential.
"I think they took us out of our rhythm and we had trouble getting back into it," DeGuisto said. "We weren't playing our game."
The Knights' frustration boiled over late in the contest with two players receiving yellow cards.
"I think we have to finish those chances. If we finish those chances, now it's a different story," Starace said. "Teams won't play so hard if you put two or three in the back of the net … and we couldn't do that today. We've been struggling with finishing and today it caught up to us. … We've got some young kids and we panicked. We just need to learn to settle down, play within ourselves and just knock it around because that's when we really play at our best."
Part of the reason for the Knights' frustration is the team's high expectations. The draw moved O'Connell's record to 6-1-2. In their first nine matches, the Knights outscored opponents 33-6, including a pair of eight-goal performances against St. Mary's Ryken and Madeira School, and a seven-goal effort against Mercy High School. O'Connell opened the season with a 1-1 draw against Archbishop Spalding on Sept. 5 and its lone defeat, a 3-1 loss to Good Counsel, came on Sept. 20. As of Tuesday morning, O'Connell was ranked No. 3 in the Washington Post's top 10. Good Counsel was No. 1 and Archbishop Spalding was No. 2.
"I think this is the best team since [DeGuisto and I have] been here, all four years," Reuther said. "I definitely think we can [continue our success]. The Good Counsel game, the score didn't reflect the game at all. We dominated most of the game."
"I think this is the best team since [Kara DeGuisto and I have] been here, all four years. I definitely think we can [continue our success]."

— O'Connell senior Morgan Reuther
Captains Reuther and DeGuisto have played a major role in the Knights' success. Reuther, who is committed to the University of Virginia, scored a team-high 17 goals in nine games. DeGuisto, who is committed to Elon University, scored seven goals.
"They just have such a high level of commitment to the game," Starace said. "They're always striving to play. … They hate to lose. … The thing that makes them so special is that they are competitors. From opening whistle to the end, they're constantly giving it their best."
Starace also said senior goalkeeper Ashley Cox has played well.
The Knights will host St. John's at 3:45 p.m. on Tuesday, Oct. 9.