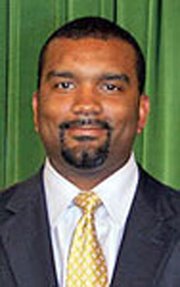 Alexandria — Gerald Mann has been appointed the new director of middle schools. He will begin his new job on July 1. Mann formerly served as principal of George Washington 1 Middle School.
Previously he served as an assistant principal at George Washington, where he led the Special Education, English Language Learner and Middle Alternative Program for Students departments, and worked with department chairs to provide instructional support and develop strategies to implement school-wide initiatives. He has served the children of Alexandria since 2001 as a special education teacher, special education department chair, resource teacher and summer school principal before becoming an assistant principal. He earned a bachelor of arts in kinesiology from Occidental College in Los Angeles and a master's in educational leadership from George Mason University.
George Washington staff and parents will have opportunities to provide input into the selection process for a new George Washington 1 principal. The position will be advertised by the ACPS Department of Human Resources, which will include staff and parents in the interview process, which is scheduled to begin in July.