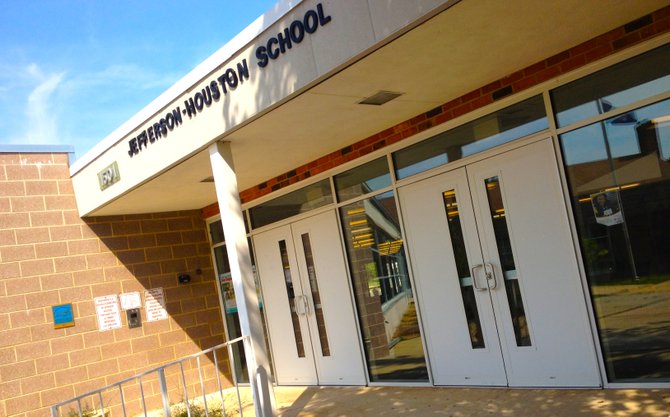 Is Republican Gov. Bob McDonnell's effort to take over Jefferson-Houston School constitutional?
That's a question that could make its way to the courts soon as Alexandria leaders consider whether or not to bring a legal challenge to the Educational Opportunities Institution, the governor's landmark education reform effort to takeover troubled schools. The only school in Northern Virginia with test scores constantly low enough to qualify for a state takeover is Jefferson-Houston School, a Kindergarten to eighth grade school that has failed to meet accreditation standards 10 out of the last 11 years. Now, as the potential takeover date of fall 2014 approaches, City Council members and School Board members met this week behind closed doors in an executive session to discuss the possibilities.
"One of the justifications for a lawsuit could be slowing down the implementation for this thing so there can be some clarity to how all this is going to play out," said Del. Rob Krupicka (D-45), who was not involved in the joint executive session. "The legal issues are there and need to be addressed at the appropriate time, but I just want to make sure that our priority is turning Jefferson-Houston around."
Supporters of the takeover effort considered an amendment to the constitution that would have added a subsection authorizing a statewide division that was not bounded by geography. But the effort to move forward with a constitutional amendment was abandoned in favor of passing a law instead. Now opponents of the takeover effort say the failure to secure an amendment is a legal flaw that can be exploited in the courts.
"They didn't gain constitutional authority for that bill," said state Sen. Adam Ebbin (D-30). "The constitution would need to be amended in order for that bill to be implemented properly."
WHEN THE BILL was debated during the General Assembly session, opponents of the Educational Opportunities Institution said the effort violates Article Eight Section Five of the Virginia Constitution, which directs the Virginia Board of Education to divide the commonwealth into "school divisions of such geographical area." Because the newly created school division would be statewide, opponents say, it violates this language.
"I don't think this is how the voters envisioned our education system being run when the constitution was adopted in 1903," said Del. Scott Surovell (D-44). "I think it was always intended to be local control."
Supporters of the takeover effort call attention to a different part of the article in question, pointing out that the section directing the Board of Education to divide the commonwealth into school divisions of geographical area has an important qualifier. The same section that calls for Virginia to be separated into "geographical" areas also says this shall happen "subject to such criteria and conditions as the General Assembly may prescribe." Now that legislators have approved the bill and the governor has signed it, supporters say, the constitutional threshold has already been met.
"The General Assembly set criteria that says they can take over a school if it's failing," said Del. Dave Albo (R-42). "I think they would automatically lose the case before it starts,"
JEFFERSON-HOUSTON has been in tailspin since 1999, when the Alexandria School Board adopted a redistricting plan that created a racial imbalance at the school. In one year, the school went from having 50 percent of its students eligible for free and reduced lunch to 77 percent. Since that time, the school's enrollment had plummeted from 486 in 2000 to 361 students today — and that's after adding sixth, seventh and eighth grade classes to the school.
"I think they need to let the takeover happen," said Bea Porter, who will have two grandchildren attending the school this fall. "There's no need to stall because they have done so poorly for so long that it's time for somebody else to come in and take over."
Since Morton Sherman was appointed superintendent in 2008, test scores at Jefferson-Houston have fallen even lower. In the last three years, English performance for students with disabilities has slipped from 60 percent to 46 percent. In that same period, math performance for black students has plummeted from 77 percent to 29 percent. Test scores have been so low for such a long that Jefferson-Houston is the only school in Northern Virginia that qualifies for state takeover under McDonnell's Educational Opportunity Initiative.
"I would say that Thomas Jefferson himself would be opposed to that," said Alexandria School Board Chairwoman Karen Graf in February. "That's bold, but he wrote a lot about education and he felt that place where education should be decided was at the local level."
DURING THE GOVERNOR'S annual State of the Commonwealth Address in January, McDonnell asked legislators to establish an Opportunity Educational Institution — making it a top priority during his last year in office, a time when governors typically try to fashion some sort of legacy for themselves. He described the effort as a "bold initiative" to provide "a high-quality education alternative for students attending chronically underperforming" schools.
"If a school is consistently failing, the Opportunity Educational Institution will step in to manage it," said McDonnell. "If the school has failed for two years, the Institution can take it over and provide a brand new approach to a broken system."
The bill became law on July 1, although critics say little has been done to set up a new statewide school division. Considering that the timeline calls for the newly created institution to take control of several troubled schools across the state a year from now, opponents of the Educational Opportunities Institution say the lack of progress is troubling.
"They don't have policies in place, and hey don't have procedures in place," said Krupicka. "Their board has never met. They have no idea how they are going to interface with local school divisions, how they are going to take property and manage property but they want to take over schools in 12 months?"