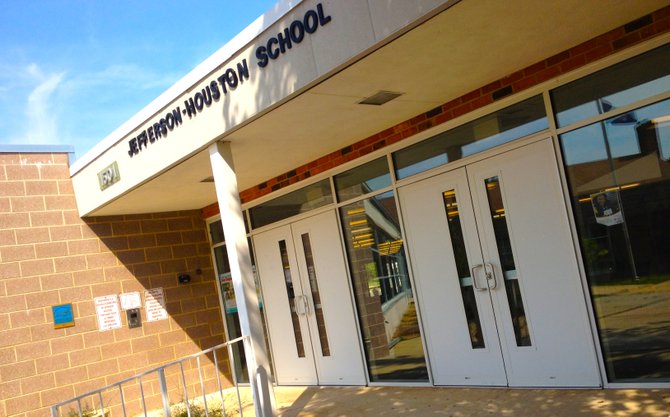 Jefferson-Houston School was built in 1970.
Stories this photo appears in:

Unless courts intervene, new statewide division will take control of Jefferson-Houston next year.
Is Republican Gov. Bob McDonnell's effort to take over Jefferson-Houston School constitutional?

Questions linger as officials prepare ceremonial shovels.
City leaders and school officials are about to break out the ceremonial shovels and turn the earth at Jefferson-Houston School, the long-troubled facility near the King Street Metro station.

Future of Jefferson-Houston is in doubt, even as state and local leaders strike new agreement.
Even as central administrators in Alexandria have finally entered into a memorandum of understanding with state leaders to turn around a troubled school, Republican Gov. Bob McDonnell is considering legislation that would seize control from local leaders.

After years of failing test scores, Jefferson-Houston to select external turnaround partner.
More than a decade of failing test scores and a revolving door of administrators have taken their toll on Jefferson-Houston School, which the Virginia Department of Education was identified as a "priority school" back in August.

Troubled elementary adds hour-and-a-half to school day as part of transformation effort.
Standing in the lobby of Jefferson-Houston Elementary School, Bea Porter is frustrated and angry. She sent her children to the school, and now her grandson is enrolled. But that may change unless the school makes drastic improvements soon.