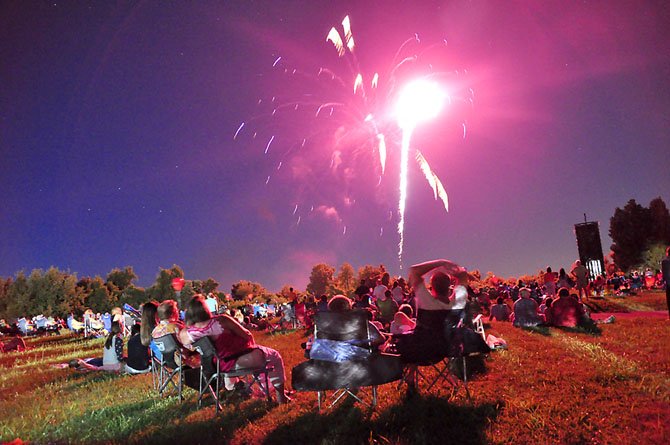 Great Falls — More than 2,500 people gathered at Turner Farm Saturday, July 6, for the annual fireworks show held by the Neighbors Foundation. This was the second year the fireworks haven't been on July 4 itself—last year's move to July 14 was due to the derecho's effects.
"After last year, we had a number of families give us positive feedback about the move, saying by the time the fireworks would roll around on July 4, their kids were wrecked," said Jeff Rainey, who chairs the event.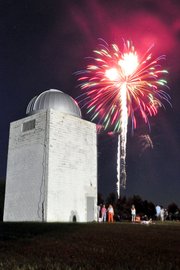 "The parade starts at 9 a.m., then there's the festival, then a day of barbecues, and by 8, 9 p.m. it's been quite a day."
The Saturday night fireworks seemed to be a popular change for many in attendance.
"Saturday is a good night for something like this, it's a nice weekend thing, we don't have much to do on a Sunday, it's a nice conclusion to a holiday week," said Adrienne Gilhart of Great Falls, who attended with her family Saturday.
Sam Sheridan of Vienna said this gave him a chance to get in a second fireworks show to celebrate the Fourth of July.
"We went to see the fireworks in Vienna on July 4, and it was nice to get another show in, especially one of this quality," he said. "It's nice when my neighbors fire some off in our cul-de-sac, but nothing beats a full-on professional show."
The fireworks got underway just before 9:30 p.m. and lasted more than a half an hour, which several attendees said was the longest they've been to.
"I went to the show at Langley on Thursday, July 4, and it was a nice show, but this one felt much longer, and the finale was something to behold," said Barry McKnight of McLean. "Plus, a farm is a much nicer venue than behind a high school at the football stadium."