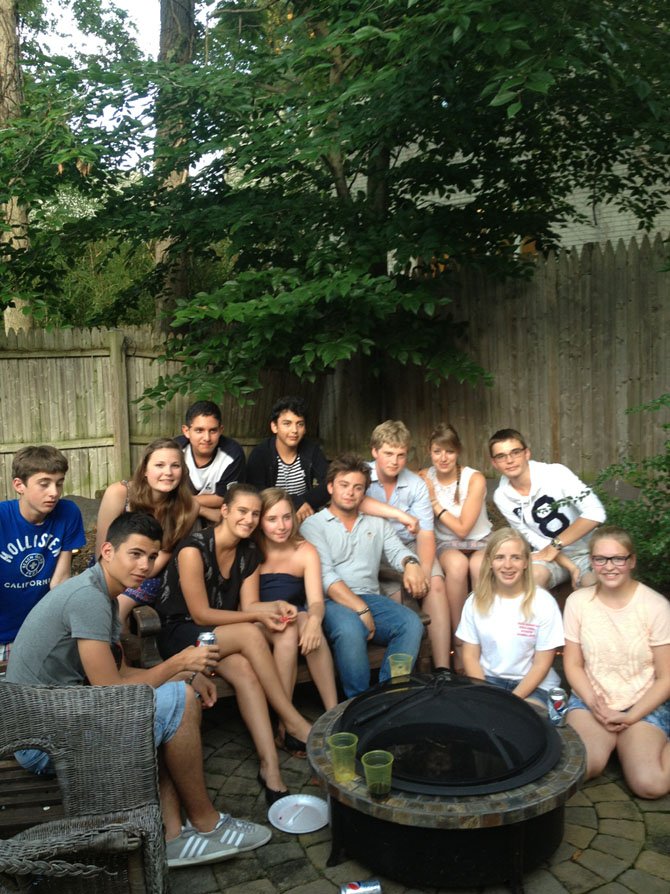 Alexandria — The U.S. and France have deep historic connections. The French provided assistance during the American War of Independence, and the Americans played a vital role in the liberation of occupied France during WWII. In an effort to deepen ties of friendship, Alexandria and her French sister city Caen have restarted a month-long high school exchange program with a focus on cultural understanding.
For two weeks, Alexandria families opened their homes to French friends, and exposed an American way of life unfamiliar to many Europeans. From basketball games at city recreation centers to chipmunks in backyards, French teenagers from Caen discovered exotic aspects of America many people in Alexandria would find mundane.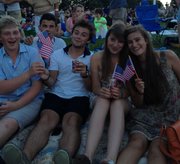 "This program has really changed my life."
— Carlos Ferrufino, TC Williams High School graduate
It was an eye opener for them, and an eye opener for us," said Paula Lader, an Alexandria resident who hosted two of the French teenagers during the two-week exchange. "We were worried they would be bored going to a baseball game, but they loved it, and the boys went wild over chipmunks."
The program included a busy itinerary highlighting American life, and included trips to shopping malls, a tour of the Mount Vernon Estate, jogs along the Potomac River, museum visits, and basketball games at recreation centers.
"We don't have recreation centers; I practiced more basketball here than in France," said Paul Lefevre, a junior high school student from Caen. "I learned about the American way of life; it's a different lifestyle. I think Americans are more friendly than we say in Europe; they are open to different cultures. I didn't realize this before the trip."
"I think Americans are more friendly than we say in Europe, they are open to different cultures, I didn't realize this before the trip."
— Paul Lefevre, a junior high school student from Caen
The Alexandria sister city relationship with Caen was established in the 1970s when Mayor Charles Beatley visited the capital of Normandy as a pilot. Cultural exchange was viewed as a way to foster peace and build connections, and remains at the center of the relationship.
Annual college level exchanges take place every July, in which the Alexandria and Caen city halls offer a month-long internship program. Although the sister city relationship with Caen operates at an official level headed by city officials, a committee of Alexandrian Francophiles also plays a role in fostering international ties.
The Alexandria-Caen Sister City Committee operates as an independent organization, and in 2012 the committee was approached by their French counterparts with a proposal to re-establish exchanges at a high school level.
Alexandrians Celebrate D-Day
In addition to youth exchange programs, the Alexandria-Caen Sister City Committee has made D-Day a flag ship event honoring the Allied liberation of France and the rest of Europe during WWII.
"The D-Day celebration is a community-wide event," said Jennie Reading, committee chair. The 69th anniversary of D-Day was held in Market Square on June 6, and organizers estimated a crowd of 100 turned out to see vintage military hardware and historic re-enactors.
For more information about the Alexandria-Caen sister city relationship visit: alexandriacaen.wo....
"The high school exchange first came from parent interest, but the scope is teens staying with other teens," said Jeannie Reading, chair of the Alexandria-Caen Sister City Committee. "It's an outlet for people to mingle, so we're starting it up again. We did it in the summer so the French could be here on July 4, and the Americans could be in France for Bastille Day on July 14. Being able to hit both those national holidays is pretty exciting."
The level of American patriotism in Alexandria during the Independence Day celebrations was a surprise to Mathilde Tremen, a junior in high school in Caen. "I didn't know Americans were such patriots; everyone is attached to the flag," said Tremen. "We also have fireworks in France, it's a symbol of revolution and we celebrate the same way for Bastille Day."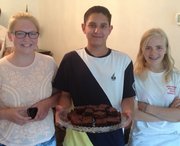 Other memorable moments the French teenagers encountered during their stay included an array of new tastes and American cuisine. "Our guest tried a lot of things she had never tasted, like peanut butter," said Shanely Kirk, a student at Minnie Howard who will be departing for France on July 11. "She was excited about a lot of things we find normal."
Americans who took part in the previous high school exchange program maintain the experience was formative, and opened a world of possibilities for the future. Carlos Ferrufino, a recent T.C. Williams High School graduate, decided to take a gap year and study the French language and culture through total immersion at a boarding school in Caen following his experience.
"Ever since I learned about France I tried to think from their point of view. Before I took part in the program I thought people in France wore black and white striped shirts and smoked cigarettes, but really not so many do that. My host did eat a baguette every morning though," said Ferrufino. "The high school exchange program is an opportunity to live in another country, and experience another culture. Two weeks was not enough, I want to become fluent in French and I need at least a year. This program has really changed my life."