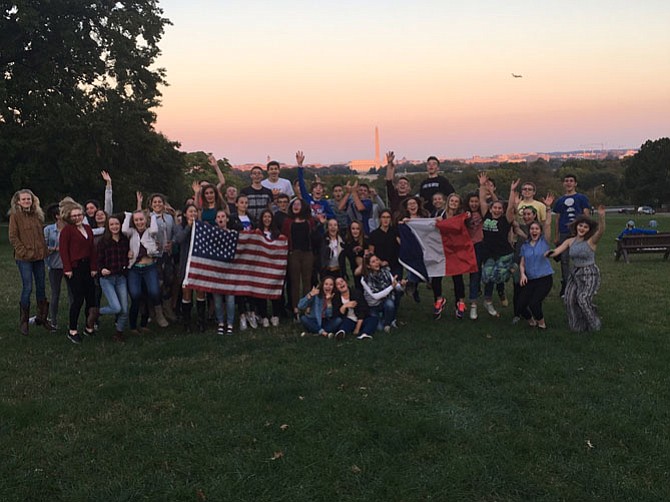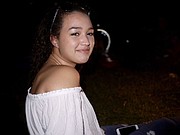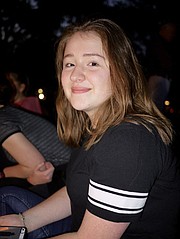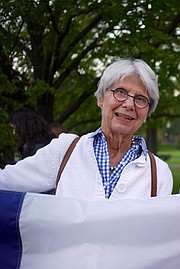 When they had a reception/picnic at the Iwo Jima Memorial, the parents, teachers, and youths taking part in the exchange between Lycée Marc Chagall in Reims, France and the four Arlington high schools were at ease with each other. One French teacher said she was surprised by some of the clichés she had heard from Americans: the French don't really work that hard, they finish work at noon, they have a lot of vacation time, and they are a Communist country, to name a few she had heard.
Isabella Gant and her friends were shocked: "Anyone who said that must not be from one of our high schools," she said. "We are too well educated to think the French don't work hard and are Communists." Isabella, who has studied French for four years at Washington and Lee High School, and her friends at the picnic, said they were surprised at how much the French students knew about … everything, and about U.S. teen culture in particular. They knew a lot of U.S. music and they knew the dances. They knew about fashion trends here.
Rebecca Manissier, from the French side, said "People are really welcoming here; it's so much more relaxed at school, it's like the teachers and the students have a relationship." As for working hard, the French students pointed out they go to school on Saturdays, and often finish their day at 5 or 6 p.m., unlike their American counterparts. Everyone agreed the purpose of these exchanges, to increase understanding between the two countries, was important to them as global citizens.
The Arlington exchange, first organized by Libby Schollaert, a former Yorktown French teacher, in 2001, takes place under the auspices of the Arlington Sister City organization and its tie with Reims. Virtually every year, French students who are studying English come here for a week, and Arlington students of French go to Reims for a week. Three chaperones, and 30 French students, came to get firsthand exposure to the language and the culture they have studied. The students compared notes: who works harder? Who has more homework?
"The French think we don't work very hard at school, but my students in general have as much homework or more than the French do," said Katy Wheelock, a Wakefield French teacher. "A small percentage of mine are doing four-plus hours per night. The French were shocked. Also, when they come to school for only one day, they see a lot of Q&A, rather than a "normal" day of school so I think they leave with a different idea of what our classes and school is like based on that."
Schollaert, as well as parent volunteer Lori Brown and Wakefield teacher Katy Wheelock, coordinated this current inbound trip. Each of the four local high schools hosted students. The three women will now plan an outbound trip, for late June to early July through the Sister City. Arlington students will get to try out their French in similar situations. Parents, like Susan Bell of Arlington, liked the exposure her daughters were getting to another culture. This was her first year hosting a student. She and her husband believe foreign travel is important to round out an education.