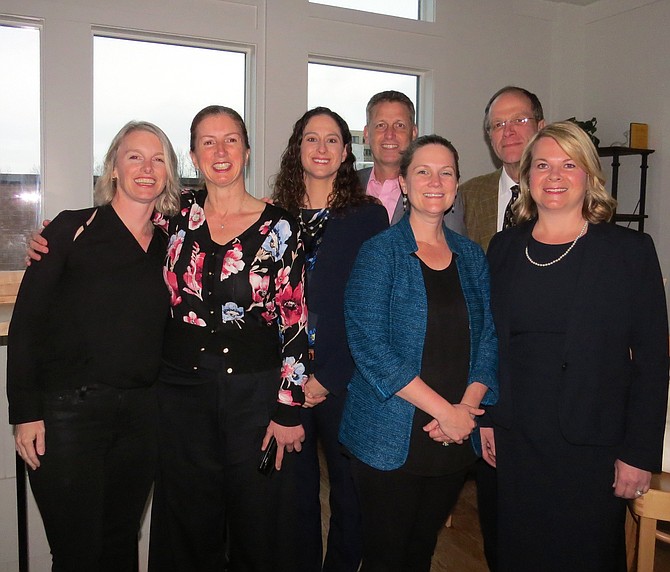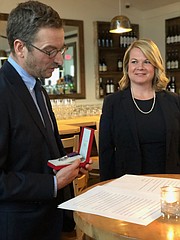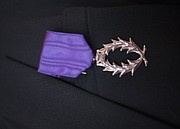 "We understand very well the challenges to foreign language teaching in the United States at the moment, and so the motivation you have instilled in your students is all the more admirable." — Karl Cogard, Education Attaché, Embassy of France
Kathryn ("Katy") Wheelock didn't expect to end up knighted by the French government. She just really loved the French language and wanted to give students in Arlington a chance to feel the same way. But at an investiture ceremony on April 5, presided over by Karl Cogard, attaché for Educational Affairs from the Embassy of France in the United States, Wheelock was officially inducted into the French republic's prestigious "Ordre des Palmes Académiques" (Order of the French Academic Palms) at the grade of "chevalier" (knight).
The Palmes Académiques was founded by Napoleon in 1808 to honor educators and is the oldest non-military French decoration. This distinction was initially awarded to outstanding members of the university community. Today, it recognizes the significant contributions of teachers throughout their teaching, scholarship and leadership over the course of their careers. The Palmes Académiques is awarded by the Prime Minister of France, upon recommendation of the Minister of Education.
Wheelock began teaching French 25 years ago. She has been a Rotary Ambassadorial Scholar to Senegal, a trainer with African Union Peacekeepers, a Cultural Orientation trainer with African refugees, and engaged in collaborative projects with the Peace Corps. As a French teacher at Wakefield High School for the last 10 years, Wheelock led the French program to earn the status of Exemplary Program with Honors by the American Association of Teachers of French (AATF).
French Embassy Attaché Karl Cogard, who presented the honor to Wheelock, made formal remarks to give weight to the importance of the award. Cogard described the medal, which he later pinned on Wheelock's lapel: "It ranks just after the Legion of Honor and the Order of National Merit. The honor when given abroad is always a declaration of recognition and admiration for those who have dedicated their life, their energy, and their talent of the French culture and language. The medal was originally made up of an olive branch and a laurel branch. The olive symbolizes strength, wisdom, depth, and peace. The laurel symbolizes victory. These branches are supported by a purple ribbon, a mixture of red and blue, two colors which are dear to France."
Cogard stressed Wheelock's devotion to French: "You have made miracles happen," he said. "You have more than doubled the enrollment for upper level and AP French classes, to the point where an additional French Level 5 class was opened this past year. I am consistently struck by your enthusiasm and leadership. You serve as a mentor for other world language teachers at Wakefield. You serve as an advisor for independent research projects, allowing students to engage deeply with French and Francophone history and culture, and you sponsor the local chapter of the National French Honor Society. You played a vital role in leveraging the Memorandum of Understanding between Virginia and the Académie de Reims, maintaining you own school's partnership with the Lycée Chanzy." This has allowed for pedagogical exchanges with two French high schools through Sister Cities International.
Cogard's remarks indicated Wheelock didn't just teach French, she taught application of French language skills in real life. Because Wheelock spent a large part of her professional life studying Francophone literature in Senegal and working with African Union Peacekeepers in Senegal, Mali, and Burkina Faso, she has shared this passion with her students, coordinating special collaboration projects for them with Peace Corps Senegal.
Wheelock offered her thanks to her family and colleagues who supported her along the way. She noted that she and her friends back in Pennsylvania had to choose a language at age 14: they all wanted to take German; she chose French. She met her husband, Austin, because of her departure to study in France, and she thanked her parents for being willing to let her go abroad. Now, with two children in high school, French is still part of the Wheelock family life, from choice in food to watching French TV. Moreover, Wheelock made it clear she could not have been so single-minded about her devotion to French without the constant support and encouragement of her family — from children to parents to brothers, and, of course, Austin. Devotion like this, with frequent travel, is not easy. She also thanked Muriel Farley Dominguez of the Sister Cities Arlington-Reims Committee, who encouraged her to become a leader with the AATF and proposed her for the knighthood.
Wheelock will be recognized by the Virginia Department of Education School Board at its meeting on April 25 and at the Arlington School Board meeting on April 23.