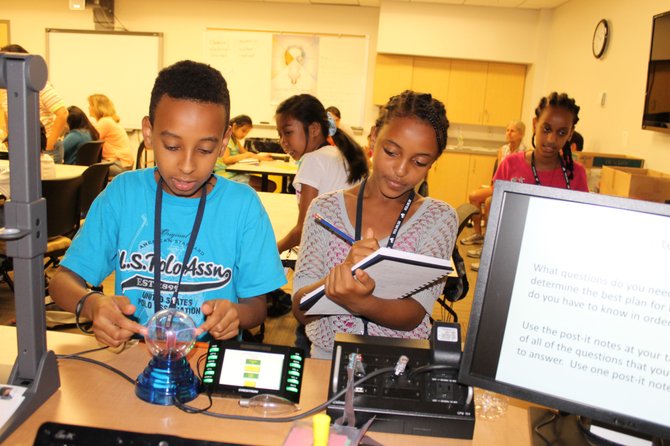 The thought of spending a summer immersed in science and math assignments is likely to make many students cringe. However, some Northern Virginia children are embracing the idea with a summer camp filled with projects that run the gamut from baking cookies in a solar oven to building a model roller coaster.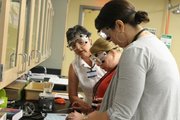 "I really like this camp because we do a lot of cool stuff. So far, my favorite activity is making a solar cooker," said Kaleab Tibebu, a rising fifth grade student at Hoffman Boston Elementary School in Arlington. "I've seen that on TV and always wanted to do it. We get to do a lot more science here and we aren't using textbooks."
The camp, which is part of the Elementary Science Institute at George Mason University in Fairfax, promotes Science, Technology, Engineering and Mathematics (STEM). This summer, campers are focusing on finding new forms and sources of energy. The two-week camp is designed for high-needs students from local schools. Students from Arlington County, Fairfax County, Manassas City, Manassas Park City and Prince William County are eligible to participate.
"It's awesome here. We made an oven with a pizza box, some tape and aluminum foil," said Cydell Still, a rising fifth grade student at Hoffman Boston Elementary School. "We will get to use it to cook s'mores. We have also gotten to build roller coasters and generators."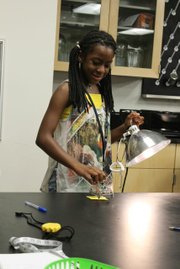 The Elementary Science Institute is part of the Virginia Initiative for Science Teaching and Achievement (VISTA), a four-week professional development program that accepts about 30 elementary school teachers from Arlington, Fairfax, Stafford and Prince William counties and Manassas Park City. The instructors learn creative ways to make science lessons more engaging for students.
"It has been awesome, really mind boggling, to watch students be 100 percent engaged in working together on science," Becky Pierce, a sixth grade science and language arts teacher at Willow Springs Elementary School in Fairfax. "The VISTA program is teaching us to make science more hands-on and include more student involvement. When students are engaged, there are fewer behavior problems."
Throughout the program, teachers worked together with scientists from around the region to create problems for students to investigate and solve. The students acted as scientific investigators and explored topics like regional energy sources and energy extraction.
"We are seeing a great deal of collaboration with the students working in teams," said Pierce. "They are thinking on a higher level, asking and answering their own questions, and wanting to do research to find out more information."
During one project, the students were divided into groups and given a set of supplies to create a solar oven: boxes, foil and tape. "Every group came up with a different design," said Pierce. "Some worked and some didn't, but they shared information and learned how to modify them to make them work."
"It has been awesome, really mind boggling, to watch students be 100 percent engaged in working together on science."
— Becky Pierce, science and language arts teacher at Willow Springs Elementary School in Fairfax
Mollianne Logerwell, VISTA director of science and education at George Mason University, is impressed with the program's outcomes. "In our third year of this camp, it is still amazing to see how excited students and teachers get by engaging in active science inquiry and problem-solving," she said. "Mason has such a wealth of resources. The students have been able to see first-hand a solar golf cart, a solar picnic table, and have visited the dining hall to learn how to minimize food waste and ways to use that waste to produce energy."