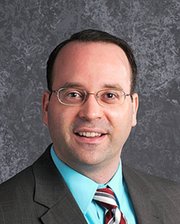 Stephen Crooker has been appointed to the newly created position of director of instruction at Bishop Ireton High School. In his new position, he is responsible for the day-to-day management of the school's academic and student life programs and related personnel.
Crooker was born and raised in Alexandria. He is a graduate of Saint Mary's Catholic School in Old Town, Alexandria and a member of the Class of 1988 from Bishop Ireton High School. He graduated from Mount Saint Mary's University with a bachelor of arts degree in theology and a minor in secondary education. He received a master of arts degree from the Saint Francis De Sales School of Theology, formerly in Washington D.C., and has also been awarded Certification in Catholic School Leadership from Marymount University in Arlington.
Crooker has served as the vice principal for academics at Bishop Ireton for the past three years.