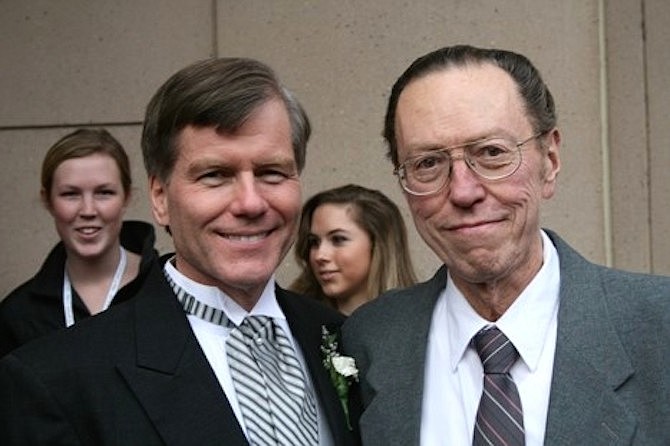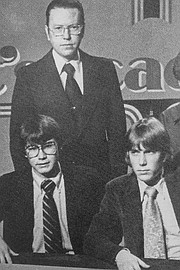 Ron Umbeck, a beloved and dedicated educator at Bishop Ireton High school for more than 50 years, died July 13 at Inova Alexandria Hospital after suffering a fall at his home earlier this month. He was 78 years old.
"Ron was arguably the smartest man I have ever met," said close friend and colleague Pete Davey. "I am having a hard time wrapping my head around the fact that he is gone."
Umbeck was a fixture at Bishop Ireton since 1967 following his first full-time teaching job in 1964 at Roosevelt High School in Washington, DC. Prior to that, he was a teaching assistant at Georgetown University. He taught full time at Bishop Ireton until his retirement in 2019.
"Throughout this past year, I witnessed firsthand Ron Umbeck's dedication to Catholic education and to Bishop Ireton," said Kathleen McNutt, Bishop Ireton Head of School and St. Mary's Academy Class of 1987. "Even though he had retired, he came almost every morning to sit by the math support center and assist students and staff as needed. Ron had a particular sparkle in his eye when he talked about St. Louis, Missouri, which was his hometown, but his biggest smiles came when he talked about his home at 201 Cambridge Road in Alexandria. Bishop Ireton has been so much more than a place to him — this institution and diocese has truly been his family."
Umbeck was born Aug. 14, 1941, in San Diego, Calif. He grew up in Missouri and graduated from the University of San Diego before relocating to the Washington, D.C. area. He earned a master's degree from Catholic University before embarking on a career that would span nearly six decades.
Although he retired from full time teaching last year, he remained the moderator of the Bishop Ireton It's Academic Team that he had led for decades. In addition to teaching math at Bishop Ireton, Umbeck also had a passion for playing the trumpet, which he began playing in the third grade in Cape Girardeau, Missouri.
"Ron was very musically talented," Davey said. "He was a member of the Washington Redskins marching band and played in the Georgetown Hoyas pep band and the Northern Virginia Community College jazz band. He also spent his weekends teaching music to Catholic elementary and middle school students since those schools did not have music programs. He was just a very quiet, humble and faithful man."
"Ron was a legend at Bishop Ireton. It will be a very different place without him."
—Friend and colleague Pete Davey
Umbeck taught Jon Carroll, a vocalist for the Starland Vocal Band, who went on to win a Grammy Award for Best New Artist in 1977. He taught calculus to future Virginia governor Bob McDonnell, who hosted Umbeck as a VIP guest at his inauguration in January of 2010.
"I wouldn't be a math teacher without Ron's influence," said Thomas Cogliano, current faculty member and BI class of 2002. "He was beyond a shadow of a doubt the best math teacher I ever had, surpassing the multitude of math professors I had in college. He was a man with a most brilliant mathematical mind and a most gentle soul. He was active in the church community and was so dedicated to the mission of Catholic education."
Umbeck is survived by three brothers: John Umbeck of Cape Girardeau Missouri; Mark Redmond of Layfayette, Calif.; and Greg Redmond of Oakland, Calif.
A memorial service at Queen of Apostles Catholic Church will be held at a date to be determined. In lieu of flowers, donations may be made in Umbeck's memory to Bishop Ireton High School, 201 Cambridge Road, Alexandria, VA 22314.
"Ron was universally loved," Davey said. "He was a very good friend and a legend at Bishop Ireton. It will be a very different place without him."