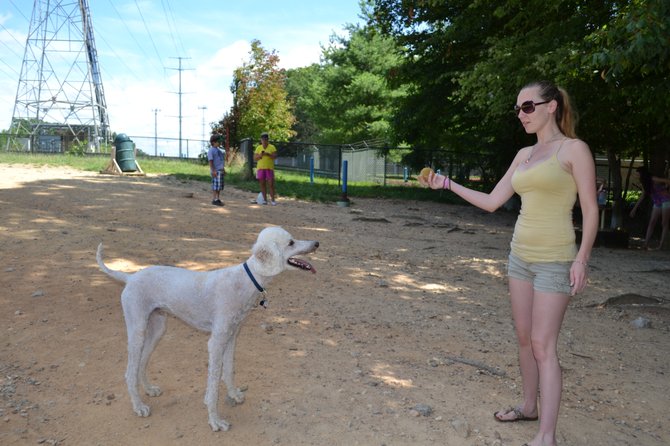 Fairfax County is characterized by many interesting people. It is also characterized by these people's equally interesting pets.
One such pet is Thor, a 1-year-old Standard Poodle owned by Lorton resident Katie Elie. Elie, who grew up with poodles, delights in her dog. She loves the companionship he provides and marvels at how intelligent he is. Quick as the god of thunder and lightning himself, Thor enjoys racing after tennis balls that Elie hurls for him to fetch.
Thor is smarter than the average dog. He can open doors and turn on space heaters. Once, when he was 10 weeks old, Elie kicked him out of the bed because she was getting too hot. Thor, angry at this slight, figured out how to undo the zipper on Elie's sealed suitcase, took out her favorite dress, and tore it up.
"I was mad, but impressed with his delinquency," said Elie. "He's the best dog."


ANOTHER SPIRITED DOG is Nugget, a 2-year-old west highland Terrier who belongs to Nancy Clayton of Fairfax Station. He is her first dog. Clayton also expressed the joy she feels with her dog's unflagging curiosity and spirited personality. She has learned a lot by just observing the social life of dogs and how Nugget interacts with his surroundings.
Like many terriers, Nugget chases cats and birds. Also, like many terriers, Nugget does not shy away from anything. When encountering dogs who tower over him, Nugget comes right up to them as if he was their size. Clayton admits that he thinks he is a Great Dane.
"He's a pretty fearless dog. He is the happiest creature," said Clayton. "[It] kind of forces you to be happy."
Margie and Randy Click and their daughter Angela also have experience living with the little dogs. The Burke family owns three Scottish terriers. One is an 11-year-old former show dog named Cutty. The Clicks adopted him when he was 2 and did not continue his previous show life because they did not like the way the dogs were kept in crates all the time.
The other two dogs are a 2-year-old brother and sister pair named Tucker and Maggie. The family originally intended to just get one dog, but when they saw Maggie was the last one left, they got her, too. They welcomed these pets into their lives because they wanted younger companions for Cutty and were seeking solace because Margie Click's father was ailing.
"I called her Maggie because my dad called me Maggie and I would never hear my name again," said Click.
Since their arrival, the two young dogs have brought nothing but joy. They like racing around the family's large backyard and keep Betty Cellitti, Margie Click's mother who lives with the family, company during the day. They have even made friends with the people and dogs around them.
"Everyone knows them in the neighborhood," said Click. "The two of them are inseparable. They [are] just such a blessing."
While many people enjoy keeping dogs as pets, some branch out with other creatures who serve as lovable companions.


THE TERPENNING FAMILY OF BURKE own both a mini American Eskimo dog named Comet and a 2 1/2-year-old mixed-dwarf bunny named Snuggles. When the bunny first entered the Terpenning family, she and Comet went through a series of introductions to become comfortable with one another. Although they behave civilly around each other, they generally are not kept in the same area.
Snuggles was a gift to rising third grade student Sarah Terpenning for her 7th birthday.
Snuggles, like most bunnies, does not hop right up to strangers. Rather, she quietly waits until she feels ready to approach them. She got her unique name because, when Sarah received her as a gift, she snuggled into her arms. Sarah's brother Cole commented on the snuggling, and recommended that it should be the bunny's name.
"I thought that was a great idea," said Sarah. "She's fun to play with and cute."
The Terpennings are not the only ones who enjoy the company of small pets.

Nikolas Cruz, a rising 4th grade student from Burke, owns a 2-year-old Chinese dwarf hamster named Boomer, which he also received for his 7th birthday. A Chinese dwarf hamster's distinctive quality is that it is quite small; otherwise, it looks similar to a regular hamster. Boomer enjoys resting in a hollowed out wooden covering and prefers burrowing underneath his metal wheel to running on it.
Boomer is also an escape artist. One morning, right before Cruz left for school, Boomer went missing. Cathi Vosburg, Cruz's grandmother, discovered the sneaky rodent buried in the sheets at the foot of her grandson's bed. However, escaping is not the only time Boomer gets to enjoy being outside his cage. When Cruz cleans his pet's cage, he puts him in a plastic ball, which he can roll around in. Unfortunately, the hamster does not seize this opportunity.
"He doesn't get the concept he can move around," said Cruz. "He's cute and lovable."