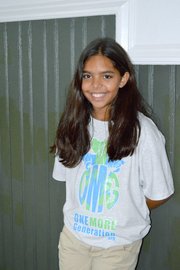 Last Tuesday, 10-year-old Hannah Testa came to Reston to meet with Robert Simon, the founder of Reston, and to give presentations on the plight of the rhinos in South Africa. Hannah has single-handedly collected over 1,600 petitions for this cause and works diligently to educate children and adults about the need to protect the environment.
Hannah Testa is from Cumming, Ga., and sits on the Board of Directors of the nonprofit organization One More Generation, which aims to educate the public about endangered species and environmental issues. She became involved with One More Generation, or OMG, about three months ago after watching one of the organization's videos online about the Rhino Campaign. She wanted to help OMG with their campaign and pledged to send OMG's founders, Olivia, 10, and Carter Ries, 11, 500 petitions to save the rhinos in South Africa, who are being killed for their horns. "If we do not do anything to help these rhinos, they will all be gone by 2022. We only have one planet and we need to take care of it," explained Hannah in a phone interview. As well as working on the Rhino Campaign, Hannah also educates others about plastic pollution and other environmental issues.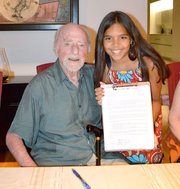 During Hannah's visit to Reston, she gave two presentations. One was in front of over 70 elementary school children at Brown's Chapel and the other was to employees at Apex CoVantage. Hannah says that her favorite part of presenting was, "seeing how engaged everyone was." She also met with Robert Simon, who signed one of Hannah's petitions to save the rhinos.
Hannah's favorite quote is from Dr. Seuss' "The Lorax" and it perfectly reflects why she works so hard to protect the rhinos and other endangered animals: "Unless someone like you cares a whole awful lot, nothing is going to get better. It's not."
OMG currently has collected over 6,500 Rhino Campaign petitions, which will be delivered to South Africa's President, Jacob Zuma in September. Hannah is currently raising money so that she can go on this trip, where she will walk in a parade and deliver the petitions that she has been working so hard to collect. For more information about One More Generation and the work that Hannah Testa has been doing on behalf of endangered species, visit onemoregeneration.org.