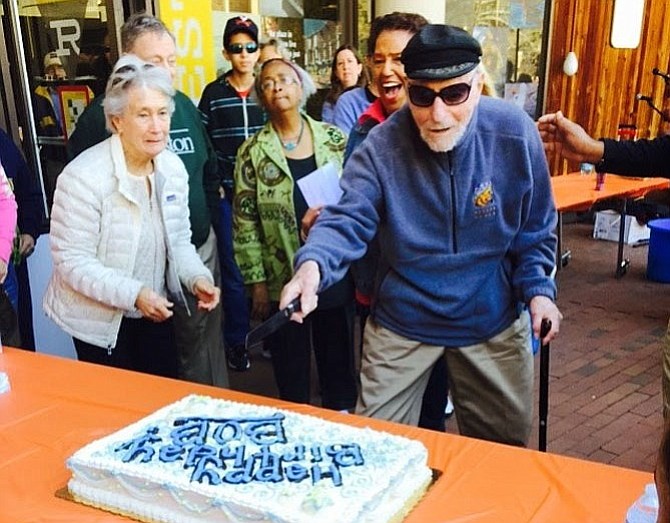 Photo Gallery
Reston Founder's Day 2015
Click Photo for Flash
After Bob Simon cut his 101st birthday cake, Jo Marshall and the band Natural Selection sang, "You're Still the One."
A few hundred people celebrated Founder's Day Saturday, April 7 at Lake Anne Plaza, honoring Robert. E. Simon 101st birthday and Reston's 51st birthday.
"We're still having fun, and you're still the one," sang Natural Selection; the guitarist is a biology professor from George Mason University.
Jo Marshall and the Bobby Pins sang with the band; she called herself the perfect example of what makes Reston a perfect place to live throughout a lifetime.
"I've lived here since 1973 and I'm in my fourth house. I'm a perfect example of how you can live in Reston in every stage of your life," she said, thanking Simon for his vision, as did everybody in attendance Saturday.
Eva Desrosiers and her daughter Michelle Desrosiers took the best seat in the house, next to Bob Simon in front of Lake Anne. The bronze Bob Simon.
"We've been here a long time and we love Reston. We thank Mr. Simon for founding it," said Eva Desrosiers.
Abby Godenschwager, 8 months, enjoyed her first Founder's Day celebration on a picturesque Saturday at Lake Anne Plaza. Her mom Emily Godenschwager moved to Reston two years ago. "I love the culture. And the people. I want Abby to grow up in a diverse community."
"Founders Day is one of the staples on my calendar," said Sharon Bulova, chairman of the Board of Supervisors. "Reston has such a wonderful quality of life."
"I've lived in Reston for 8 years and I've tried to live and be a part of all of it," said School Board member Pat Hynes.
"What a delight to live in a community like Reston. Bob, thank you for the vision you had," said Del. Ken Plum, whose grandson was born this week. "He'll make a great addition to the Reston community."
Simon turned 101 on Friday, April 10. Founders Day began approximately 11 years ago.
"I came to the very first of these Founders Days and I was a little worried because Bob was 90 and I thought we were taking a bit of a chance," said Sen. Janet Howell. "Eleven years later, I've decided I'm not going to worry about Bob Simon.
"We wouldn't think of being anywhere else. Thank you, Bob," said Howell.
Bob Simon rode to Founder's Day in style, in a bicycle limousine that Sharron Wubbels helped provide for with Reston U.S.E.
"He's accessible. He's caring," said Wubbels, about Simon. "He gets rides from us because he lost his license."
Many during the ceremony gave creative flair to match Simon's creative vision.
South Lake High School's saxaphone quartet opened with the Star Spangled Banner and featured David Clark, sophomore, on soprano, Nathan Hamlett, freshman, on alto, Julia Rose, freshman on baritone, and James Heiman, sophomore, on alto.
The South Lakes High School rock band Catchin' Toads performed as well as The Reston Chorale's "Simon Singers" who sang Jo Marshall's original "Restonnation" about living, working and playing in Reston. "Robert Simon's inspiration: Thank you, Bob, for your creation. Thank you, Bob, for Reston, Happy Birthday, Reston," she wrote.
Beverly Cosham, chair of the Reston Community Center, wrote her own song to honor Simon:
"A hundred one and tons of fun, that describes our Bob Simon, stand up and cheer our Founder today," Cosham sang. "Bob Simon carved from dirt and clay, this vision we see here today, not exactly Heaven but very close. Once you come to visit, you'll wanna stay, so come and get a load of Reston today! Let's thank Bob Simon!"
Howell, Plum, Hynes, and Bulova sat next to the bigwig Bob Simon and performed in a humorous game show quiz about Reston.
"Do I have to answer the question, with a question?" said Plum.
"Are we being set up?" asked Howell.
"To love Reston is to love life."

— Robert E. Simon
During the ceremony, Simon was asked to finish the sentence, "To love Reston...."
"To love Reston is to love life," said Simon.
Joseph Letteri, a sophomore at South Lakes High School, said he loves the Reston community. He placed third in the 10-19 age division of the the 12th annual Nature House 5K at the Walker Nature Center earlier in the morning before coming to Bob Simon's birthday bash.
"I want to thank Mr. Simon for all he has created for us," said Letteri.
"It cheers you to no end."

— Nina Terry
Nina Terry loves the history of Reston. "To think someone started with nothing and made a place like this. It cheers you to no end," she said.