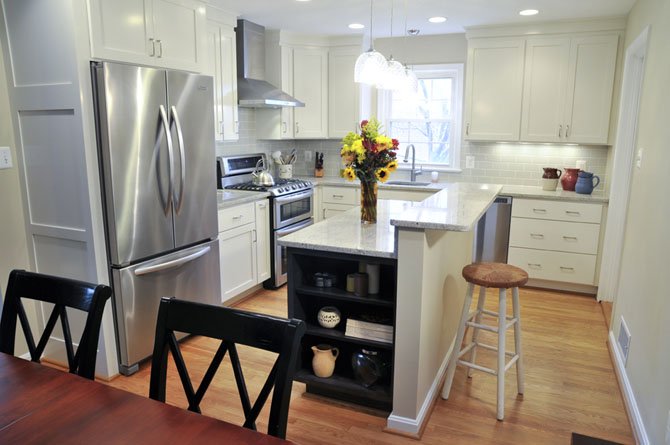 Challenging times demand creative thinking — so you don't have to look far to find homeowners executing remodeling projects with far-reaching objectives.
Take, for instance, the case of Mary and Harry Warren of Mount Vernon, both in their mid-70s.
Scrolling back a few years, the Warrens where weighing various retirement options when they learned that their daughter and three grandchildren would be moving back to Virginia from the midwest and might be amenable to participating in a three-generation household.
"There was really a lot for us to consider," said Mary Warren. "Harry and I thought that if we expanded the house to incorporate the extended family, we could eventually pass it on to the next generation. We could also make some changes that would help us to move around as we get older."
On the other hand: the more the Warrens scrutinized the existing property, the more they wondered if their vision was even feasible.
FOR STARTERS, at 1,500 sq. ft., the three-bedroom split-level the couple had occupied since 1994 was neatly centered on a small lot in a neighborhood with strictly observed set-back requirements.
To provide all three generations with the necessary space and privacy, the Warrens figured they would have to increase usable living space by 40 percent or more.
A carefully planned addition along the property's western side offered promising possibilities. But even if you could find the needed lot space, the floorplan configuration that would satisfy everyone's privacy requirements remained elusive.
It was at this juncture that the Warrens turned to Craig Durosko, founder and principal of Sun Design Remodeling.
"The program was certainly tricky," Durosko said. "The Warrens wanted a functionally independent suite that would include a luxury bath, lots of custom built-ins and interior design improvements. Our thought was: if we could satisfy this requirement from the ground up, Meg and the grandchildren could take over half of the existing house as their own wing."
"We particularly liked the consideration to everyone's privacy needs," Mary Warren said. "Their plan allows for independence where you want it."
Thus, stripped to its essentials, Durosko's solution called for converting the three-bedroom split-level into a five bedroom two-level structure that provides the Warrens with private quarters, yet also incorporates transitional zones suitable for easy everyday interaction.
TO ACCOMMODATE the elder Warrens, Durosko and team designed a 650 sq. ft. wing adjacent to a newly formed rear courtyard. The perfectly-integrated one-level addition features two large bedrooms, a master bath and large reach-in closets. A former family room now serves as the couple's sitting room.
By extension, Meg and the grandchildren inherit sleeping quarters in the existing bedroom wing — a configuration of rooms that affords everyone with the sufficient convenience and living space. Both families share the newly upgraded kitchen.
The makeover also allowed the Warrens to introduce a number of Universal Design features. Hallway widths in the new wing have been expanded to 44"; doors are 34" wide — compliant with American Disabilities Act requirements. The rear entrance has, likewise, been designed to accommodate a ramp, should a wheelchair be required in the future.
"We're just thinking ahead," Mary Warren said.
More recently, Mindy Mitchell — Sun Design's certified Aging-In-Place Specialist — followed Universal Design principals in renovating the original circa 1960s kitchen. Revisions included removing unneeded walls, widening doors and hallways and introducing roll-out cabinets with drawer pulls. There's also task lighting, easily maneuvered faucets and a multi-level island suitable for standing or sitting.
"The new kitchen feels significantly expanded, yet it's very efficiently designed — a great solution for a family like ours," said Mary Warren. "The changes have made life easier for everyone."