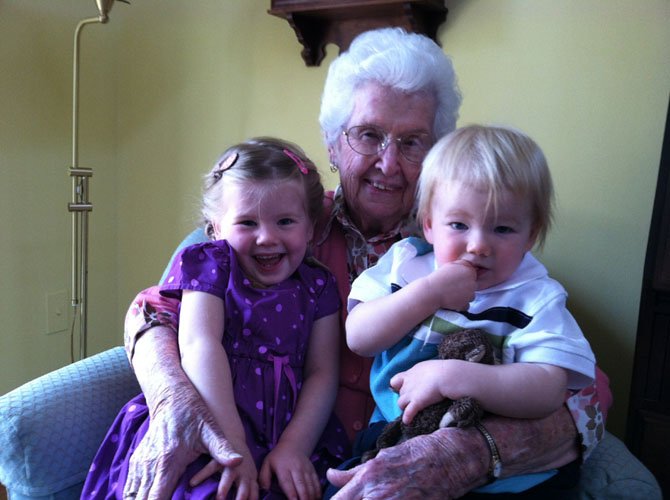 Arlington — On most evenings, 96-year-old Dorothy "Dot" Brown can be found playing Scrabble or a game of bridge. A retired nurse who relocated to Virginia from Pennsylvania 11 years ago, Brown makes it a point to walk at least one mile each day and takes two Zumba or low-impact aerobics classes each week. She attends services regularly at St. Matthews United Methodist Church in Annandale, volunteers her time for projects like cooking and serving meals for others, and says her wide circle of friends and close-knit family are her greatest sources of strength.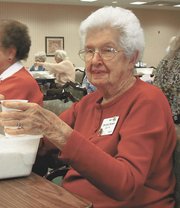 "I moved here to be closer to my daughters in Annandale, who are 68 and 71," said Brown, who also has five grandchildren and nine great-grandchildren. "My family is so important to me. We have so much fun together and now we all live within a half-hour of each other. There isn't a week that goes by that we don't get together."
While Brown partly attributes her well-preserved mental and physical fitness to genetics, she says her lifestyle and attitude also play a role. "You have to keep busy and active and you have to persevere," she said. "There are days when I don't feel like getting out, but I have to push myself. I am glad to be 96 years old and still able to walk without any help."
Mental health professionals say the keys to happiness as one gets older include involvement in social activities or community and religious groups, maintaining a network of friends and regular exercise. Lisa Jackson-Cherry, Ph.D., a professor of psychology and chair of the department of counseling at Marymount University in Arlington, suggests "taking up a new hobby or seeking out a career change that brings a sense of meaning."
In fact, experts say many of Brown's daily activities are common among seniors who report contentment with their lives. "Everybody is unique, but overall happiness comes if people continue to do things that they have done over their lifetime that have brought them joy and strength," said Ioana Boie, Ph.D., an assistant professor of counseling at Marymount University. "Find out what brings you joy and happiness and takes you out of your routine."
STRONG FAMILIAL RELATIONSHIPS such as Brown's are another factor in one's overall sense of well-being. "Reconnecting with family members can bring happiness," said Boie. "That's also sometimes tricky because it can bring up unresolved issues in the family. Long-lasting tension in the family can lead to sadness in the sense of premature loss. Try and work out unresolved tensions and issues with family members."
When frequent and meaningful contact with family members is not possible, Boie says that even family memorabilia can offer inspiration. "Create an album of memories and insights to share with future generations," she said.
Intimacy is also important. "If a person has lost their spouse and sex was part of their life, that is a big part of who they are and will impact happiness," said Boie. "Just because a person is older doesn't mean that they don't need to experience intimacy, although they might not experience it in the way a person who is 25 would. We should alleviate some of the tension around talking about this issue."
In addition to human social connections, relationships with furry friends can also provide gratification. "Pets can bring a lot of joy," said Boie. "It is a very rewarding relationship. I know people that are connected to a parrot or cat or dog. Animals can be warm, reassuring parts of an elderly person's life."
FINDING A DEEPER MEANING in life and having a sense of purpose can also affect one's outlook. "Seniors are dealing with multiple issues like their own spirituality and what that might be," said Frederic Bemak, Ed.D, a professor of counseling and development at George Mason University in Fairfax. "One might ask: 'Who am I at this moment?' Have I done things that are in-line with my own value system and beliefs?"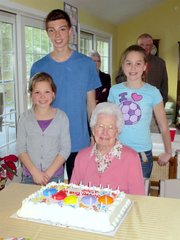 Discovering new outlets for self-expression can lead to a sense of accomplishment and satisfaction as well. "What someone does with their own creativity can be rich and fulfilling," said Bemak who lives in Fairfax Station. "Through physical activity and creative arts, seniors extend a sense of their creative selves that they might not have had time to do in their younger years."
Meanwhile, Brown is making plans for a weeklong summer vacation with her family. "There will be 22 of us in one house at the beach," she said. "I know we're going to have a great time."