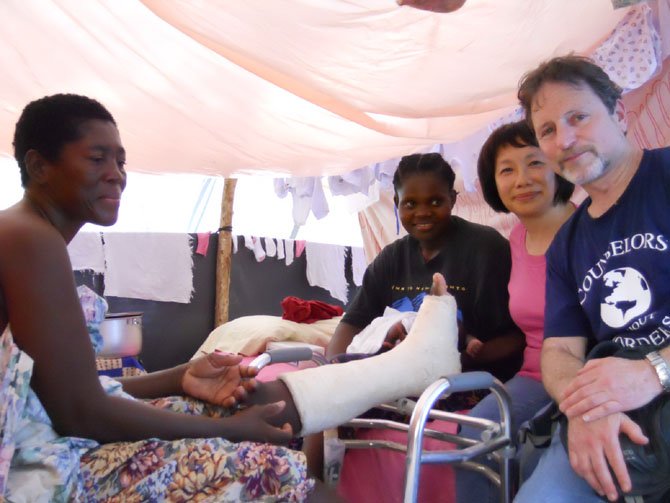 Fred Bemak and his wife Rita Chi-Ying Chung, who are both professors at George Mason University in Fairfax, recall being in Haiti shortly after the catastrophic earthquake of 2010. They were there to provide mental health counseling to those traumatized by the natural disaster.
"We were working in one of the tent camps," said Bemak who, with Chung, has been a professor of counseling and development in George Mason's College of Education and Human Development since 2000. "There were tents and each contained about 30 cots. People lived side-by-side with no privacy. There was little food and little water."
"A lot of counseling theories are based on Western beliefs. Coming from an Eastern background, I know that culture plays a major part in the way we react and respond to major life experiences."
— Rita Chi-Ying Chung, Ph.D.
They worked with a woman who was so traumatized that she had been unable to get out of bed for three months. "The traditional response is 'let's get her off to the side and speak to her alone,'" said Bemak. "But that is the Western model of therapy. When you're looking at family-oriented communities, there is a tremendous need to connect with others."
As Bemak spoke with his bed-ridden patient, others began to join the session. "We started to talk to her and crowds started to gather around her cot," he said. "It became a huge healing intervention where for the first time in three months, she got out of her cot. We had a [session] that was conducive to the community in Haiti."
Bemak and Chung's peers will salute their dedication to human rights, social justice and culturally sensitive mental health treatment later this month when they receive two of the American Counseling Association's highest honors.
Chung will receive the Gilbert and Kathleen Wrenn Humanitarian and Caring Person Award, which Bemak was awarded in 2011, and Bemak will receive the Kitty Cole Human Rights Award, which Chung garnered last year. Additionally, Chung will receive the 2013 Outstanding Faculty Award from the State Council of Higher Education for Virginia and Dominion Resources.
"I am deeply honored that I was even considered for these awards. It is a true honor. I feel so privileged to be in this field," said Chung, who noted that her background fuels her passion for her work.
"I am a person of color and I grew up in another country," said Chung, whose parents moved from China to New Zealand after the World War II. "Being an immigrant to the United States myself, I understood the struggles and challenges of immigrants and refugees. A lot of counseling theories are based on Western beliefs. Coming from an Eastern background, I know that culture plays a major part in the way we react and respond to major life experiences."
Bemak worked as a counselor and also served as director of the Upward Bound Program at the University of Massachusetts, Amherst. "I worked with white, African American and Latino students who were struggling academically," he said. "When they came together, for many it was the first time that they'd been around people of other races."
Bemak and Chung say cultural sensitivity and insights are often lacking in mental health care. This underscores the importance of their work with Counselors Without Borders, which Bemak founded. It provides culturally responsive humanitarian counseling after disasters. Together, they've led teams of therapists and students in providing mental health therapy along the Mississippi Gulf Coast after Hurricane Katrina, and on American Indian reservations and in Latino migrant communities after the San Diego wildfires.
"The two of them have traveled to more than 55 countries, together and individually, where they have worked with at-risk youth, immigrants and refugees; counseled child-trafficking and post-disaster victims; and guided students of color and former child soldiers," said Catherine Probst, a spokeswoman for George Mason University.
The couple also co-authored "Social Justice Counseling: The Next Steps Beyond Multiculturalism" last year.
"We both do the work because we want to give back," said Chung. "We're trying to instill in the next generation of counselors to give back. I am not working to be recognized, but I hope this will inspire people to do the work because there is so much need out there."