Photo Gallery
Wine on the Water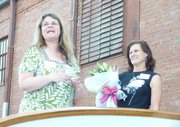 Fundraiser Benefits ASF Programs
Click Photo for Flash
Alexandria — The Alexandria Seaport Foundation held its third annual Wine on the Water fundraiser June 1 to benefit the ASF programs for at-risk and disadvantaged youth.
"Through our apprenticeship programs, we change lives," said ASF board member Kelli Back, who introduced new executive director Mari Lou Livingood to the crowd gathered at the foundation's boat building workshop in Old Town.
Attendees enjoyed a wine tasting sponsored by Grape + Bean and tours of the workshop. A live auction featured original artwork by ASF supporters and apprentices, including one painting of the foundation's Old Town Seaport Center by apprentice Anthony Ness that sold for more than $1,000.
"Being good at something gives kids confidence," Back said. "Being able to learn gives kids confidence and that's what we do here through our programs such as Building to Teach."
Livingood, who recently joined ASF after serving as Director of Development at Living Classrooms of the National Capital Region and Assistant Director of Development at the National Fish and Wildlife Foundation, thanked the crowd for its support.
"I am very excited to be back here at the Seaport Foundation," said Livingood, who began her career in 1998 as the volunteer ASF Associate Director. "But there is still so much more for us to accomplish. With your support, we will continue to change lives."
See www.alexandriaseaport.org