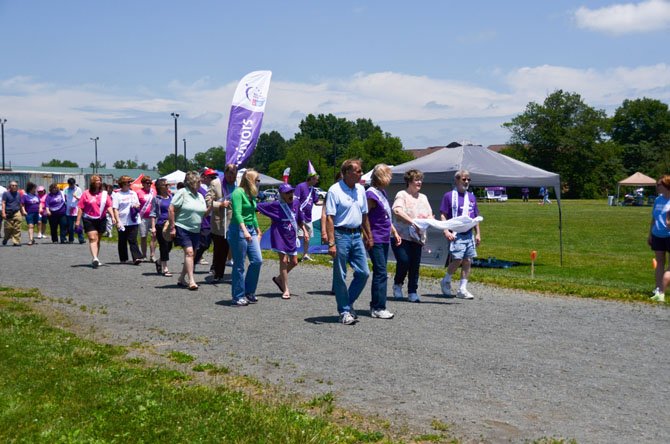 The American Cancer Society (ACS) hosted a Relay for Life in Herndon Saturday, June 8, at Herndon Middle School. This was the fourth year the event was hosted at Herndon Middle School. Herndon resident Sheila Grooms was the event chairperson.
At 1 p.m. there were opening ceremonies for the event at the Herndon Middle School outside on the track and field. The Herndon High School Navy Junior ROTC Color Guard performed the flag ceremony, and the national anthem was performed by Shennan O'Day, a Herndon Middle School student.
Following this, Grooms invited Herndon Mayor Lisa Merkel and Delegate Tom Rust to come up to say a few words.
"One hundred years ago, the word 'cancer' was not spoken, and we lost almost all patients to the disease," said Grooms. "During the last 100 years, we've learned that cancer thrives on silence, complacency and business as usual. However, today on this track, we are ready to make noise. … Right here, right now we can take action by embracing the purpose of Relay For Life, to celebrate, remember and fight back."
Individuals who have been battling or surviving cancer were welcomed to come forward, introduce themselves and walk the first lap around the Herndon Middle School track.
Approximately 29 teams and 270 participants raised more than $79,500 for the event. At 2 p.m., the Herndon High Jazz Band performed with Band Director Brett Lemley. At 3 p.m., the local bluegrass band Foggy Memory Boys gave a performance. There were other activities as the day progressed, including a silent auction and a musical performance by Shannon Wise.
Also attending the event was retired Army Colonel Kris Young with her husband, and their son Alastair. The Young family have volunteered with the Herndon Naval Junior ROTC and worked with the booster club. "I think this is a great event," said Young.
"The NJROTC is not just about uniform, it is about supporting the community. We are donating money today for the Relay For Life, we've got a check from the NJROTC attachment that we are handing over today, as well as a check from the NJROTC Boosters. We have a couple of parents, myself included, who are cancer survivors … this disease has touched our detachment and we are just as eager as everybody else to fight cancer and find a cure."
Herndon resident and event volunteer Suzer Sachs attended the event with her husband. Sachs assisted with the event's survivor and caregiver activities.
"This is our 10th anniversary, so we are celebrating a decade," said Sachs. "It was a fabulous turnout at the survivor lunch. It is a very moving experience. I'm a 19-year survivor of cancer, the committee and their teams worked endless hours to get this together."
At 9 p.m. there was the annual Luminaria ceremony. To raise funds for the American Cancer Society, the relay sold luminarias or small paper lanterns that attendees could purchase and light in memory of a loved one who has or had cancer. Candles were handed out to those present, and there was a silent candlelit walk around the track in memory of those who had passed. The event was set to end at 6 a.m. on Sunday.