Despite the inclement weather and a soggy field, hundreds of people still attended the Relay for Life at South Lakes High School Saturday, May 18.
The Master of Ceremonies WTOP's Del Walters proclaimed to the crowd, "We ain't afraid of no stinking rain," a declaration met with cheers. The American Cancer Society's Relay for Life fundraisers are held all over the country year round with millions of supporters hoping to find a cure for cancer.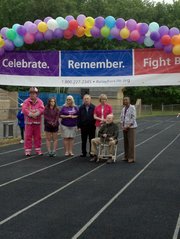 THE RELAY FOR LIFE began at 1 p.m. and ended at 8 a.m. the next morning. At the South Lakes athletic field, dozens of tents with families and sponsoring organizations made camp.

Reston locals Sonya and her son Arthur sat outside their campsite. When asked what their favorite part of the relay is, Sonya said: "The Luminaria ceremony is quite beautiful," describing a period of silent reflection remembering those lost to cancer, "Last year there was a small choir singing a hymn. It can get quite emotional." Her son Arthur was happy to be participating in his first Relay for Life with his family.
Cancer survivor Jill Ruoff held back tears as high school sophomore Nicole Frank, whose mother is a cancer survivor, sang Mariah Carey's "Hero" for the opening ceremony. "I've been doing relay for 16 years and it is still special every year," Ruoff explained as she made her way to the starting mark for the Survivors Lap.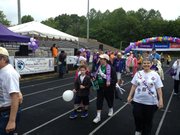 To officially begin the event survivors from the area walk a lap amongst themselves wearing purple to signify the disease they overcame. At the forefront were local dignitaries State Senator Janet Howell (D-32), Fairfax County Supervisor Cathy Hudgins (D-Hunter Mill), as well as the founder of Reston, 99-year-old Robert E. Simon. Howell and Hudgins joined Jill Ruoff and others on the Survivors Lap, receiving hero sashes from their caretakers.
With music playing on the loudspeakers, the relay was underway once the rest of the supporters filed onto the track. Side-events like arts and crafts and bake sales were spread out across the field.
Watching the event from his tent, Dr. Gary C. Powell said, "Today offers us to come together as a community." Looking around at the festive ambiance Dr. Powell added, "This is like a party with a cause. We have a family friendly event while still making a difference."
AFTER FINISHING their first lap Supervisor Hudgins and Senator Howell, who have both participated in these types of fundraisers, were asked what makes them keep coming back. Supervisor Hudgins replied, "There is just such a plethora of cancers that it is almost impossible not to be touched by someone who has been affected by the illness."
Hudgins further expanded on the significance of seeing the survivors and admiring their bravery. "They have gone through so much. … To see them make themselves visible shows that no one suffers alone."
When asked the same question of what motivates her to come back every year, Sen. Howell said, "We still haven't found a cure so we need to keep fighting." Howell also said that she loved to see everyone "so upbeat and lively for such a good cause," showing how we are all still "optimistic in finding a cure is quite inspiring."
The event continued on into the late evening and tired supporters packed up their gear. They left early the next morning, eager to come back next year.