burkeconnection.com — After just one year, the South County Middle School Mustangs are already charging ahead toward a bright future: On Sept. 4, 2012, the school opened, boasting long, shiny hallways and advanced technological equipment. It recently commemorated its one-year anniversary with a ceremony involving the staff, members of the student body, members of the superintendent's office, and members of the Board of Supervisors. Staff members donned matching polos with the school's logo on it, and speakers wore shirts that had the school's name and "The Only Solution" printed on the back.
"This is a celebration of belief, a celebration of achievement, and a celebration of what a community can do," said Principal Marsha Manning.
Photo Gallery
South County Middle School Anniversary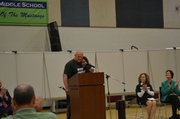 Click Photo for Flash
Choir members Cassidy Donaghy and Collin Hornbuckle opened the ceremony with a rendition of the "Star-Spangled Banner." After that, a number of speakers took turns expressing enthusiasm in the success of the young school and the history of the community that embraces it.
"SCMS completes the picture, and what a beautiful image that is," said Assistant Superintendent of Cluster 5 Frances Ivey. "Just look at the results of the commitment at work."
A couple of speakers turned the audience's attention to the power of the community in bringing about change even before the construction of the sparkling school. Both school board member Dan Storck and Chairman of the Fairfax County Board of Supervisors Sharon Bulova recall the closing of the Lorton Prison as a point in which the community started teaming up to get things done, a spirit which came to the fore in the establishment of SCMS.
"They worked very closely to make sure this was the community people wanted to have," said Bulova. "It was around this middle school people galvanized."
Christine Morin, one of the co-chairs of the SCMS Solutions Group and mother of a middle school student, discussed what the fate of the SCMS students would have been if the school had not been built. They would have been jammed into South County Secondary School, which already had 27 trailers due to overcrowding. Now, the students have a brand-new facility in which to spend the two years prior to high school.
"[The school] is a testament to the power of the community coming together," said Morin. "[It is] so much more than a place where children are educated. It's a cornerstone of our community."
The students are determined to keep that cornerstone as clean and polished as it was the day they moved in: They have been given video announcements to take care of their school and pick up trash when they see it. Manning has instilled in the students skills to keep them connected, capable and contributing. Student Government Association President Nathan Kim says that the students have taken full advantage of their beautiful facility, and have worked together to make their transition as easy as possible.
"[The school] gave us the confidence to be more successful," said Kim. "It's an incredible journey to be involved in."