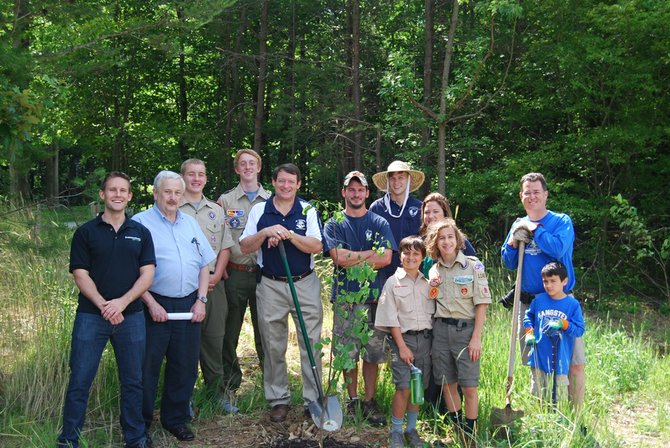 When the renovation of Burke Lake Dam began last fall, many residents in the leafy South Run neighborhood were concerned about the dozens of mature trees construction crews had to rip out to gain access to the dam.
"South Run is largely a community of heavily-treed lots and common spaces that abuts Burke Lake Park where the dam renovation took place," said Chuck Caposell, trustee of the South Run Regency Homeowner's Association.
Residents met with Supervisor Pat Herrity (R-Springfield) several times last fall to voice their concerns. Herrity promised he and his staff would help them replace the trees destroyed by the construction.
On Saturday, June 15, Herrity delivered on that promise.
Along with Boy Scouts from Springfield Troop 1140, community volunteers and Del. Dave Albo (R-42), Herrity brought his shovel and helped dig holes to plant 10 trees in the area.
The trees were donated by Transurban and Fluor—the private partners on the 95 Express Lanes project—through the "1,000 Trees in 1,000 Days" program. A total of 75 trees were provided by the consortium, which is partnering with communities located near the 95 Express Lanes construction corridor to plant 1,000 trees in 1,000 days.
"This is a big win-win," Herrity said. "South Run wanted additional screening for that construction, and Transurban had the trees."
"We are grateful for the efforts of Supervisor Herrity who, along with the generosity of Transurban, secured 75 trees for the park, including 10 located near our community," Caposell said.
The dam is owned by the Virginia Department of Game and Inland Fisheries, while the surrounding 650 acres of park land is owned by the Fairfax County Park Authority. Construction on the Burke Lake Dam project was completed in February, and the trail across the dam is now open.
"The tree will go a long way in keeping Burke Lake Park as one of Fairfax County's most beautiful and prized assets," Herrity said.
According to Transurban-Fluor officials, applications will be accepted and trees will be awarded throughout the 29-month 95 Express Lanes construction schedule until 1,000 trees have been installed.
For more information on the 1,000 Trees program, visit: