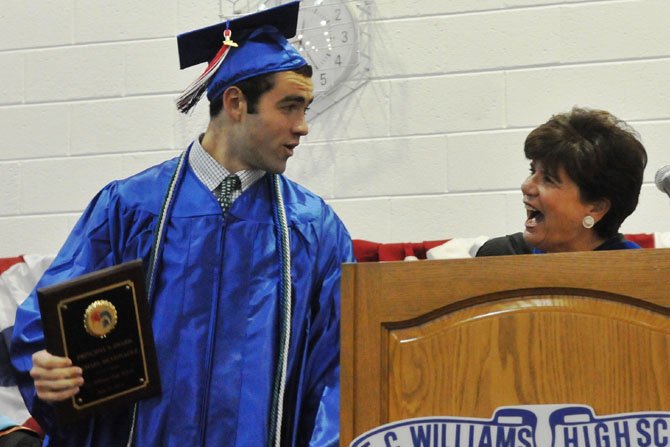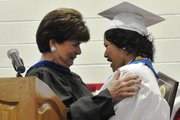 Good Morning. On behalf of the students and staff of TC Williams High School I would like to welcome our distinguished guests, our parents, families, friends and most important, our graduates from the class of 2013. This is the day when we officially recognize that you have met the requirements for a diploma in the state of Virginia. But it is so much more than that. It is also a special pause in time in which we stop and reflect on who you are, where you have been and what you will become. As much as we try to be calm and sophisticated about the proceedings there is a bit of magic in the air. In some ways this is a bittersweet time because amidst the joy and celebration is a profound sense of loss for a time that you and your families will never forget.
Preparing students for the rest of their lives is no easy task and it takes the hard work, dedication and love of a great many people. So before I focus on you, I would like to talk about those special people. Commencement is also about gratitude. It's a time when we thank those people who have made a positive difference in your lives-parents, grandparents, aunts, uncles, cousins, neighbors, teachers, counselors, administrators and other support staff. At some point someone in this room has worried about you, supported you, cheered you up when you were sad, shared your disappointments, listened to your sorrows or shared in your joys. We thank all those people for their patience, their guidance and their dedication to our students.
Our community extends beyond the doors of T.C. William High School. We must not forget those people on stage who set the policies and support school personnel. Dr. Sherman and the School Board, we thank you for your encouragement, your support and the love you have given to our school. Thank you for understanding the difficult job of educators and appreciating that every day the staff of T.C. Williams High School gives our students the best that we have.
Finally, we have some other special guests in the room. Graduation is so much more than four years of high school. It is also a reflection of 13 years of schooling. In each of those years there were special educators who saw to your needs and cared for your welfare. This morning they are here to celebrate in your success and share in your joy. Over to my right are a group of people who represent the elementary and middle schools in Alexandria City Public Schools. As I say their name and school, they are asked to stand and be recognized.
Debbie Thompson - MacArthur Elementary School
Seth Kennard - Charles Barnett Elementary School
Pree Ann Johnson - Polk Elementary School
Gwen Bridges –John Adams Elementary School
Wanda Weaver- William Ramsey Elementary School
Tiffany Clarke - Matthew Maury Elementary School
Ingrid Bynum - Patrick Henry Elementary School
Rene Paschal - Samuel Tucker Elementary School
Alicia Kincades - Lyles Crouch Traditional Academy
Xiomarra Coparropa - Cora Kelly Elementary School
Marci El Baba - George Mason Elementary School
Blanche Maness - Hammond Middle 1 Middle School
Gerald Mann - George Washington 1 Middle School
Vandrenna Martini - George Washington 2 Middle School
Olga Williams - Mt. Vernon Community School
Mark Eisenhour - Jefferson Houston Elementary School
Jason Sutton - Hammond 2 Middle School
And the newest member of the TC family …
James Wilson -Satellite campus.
Also with us today, representing the 2013 retirees, are Sandra Ballif, Sheila Jacobs, and Susan Smith. Thank you for your dedication to our students.
Now I can focus solely on you. I am not the kind of principal who goes to their computer and picks out an old graduation speech and recycles it. Instead every year at this time I sit down at my computer and reflect upon the graduating class. Every class has its own character and challenges and you are no exception. However, you are special because I have known you for three years. We began our transformation process when you were sophomores, so you have seen the increased emphasis on academic achievement for all students, the higher expectations for your behavior, the increase in school spirit, and the consistent drive for excellence.
These qualities are not afterthoughts but part of the culture of our school. We now almost take for granted that our ROTC program is excellent, that we are a Blue Ribbon School for the Arts, that our musical bands and choir groups consistently win awards and earn superior ratings, that our student leadership group is a model for student leadership across the state, that the number of students taking AP tests and their scores have increased and yes, we even take the pesky SOL tests seriously. This didn't happen by accident. It is because of the hard work and dedication of our staff and students and the support of Dr. Sherman and those at Central Office. It has been a family affair and we have done it together.
This does not mean we are perfect or that there is not much more to do. We know that we have a long road ahead of us, but we are a determined bunch and we will continue to improve the school we love so much. But you, class of 2013 were the ones that started this ball rolling and I am ever so proud of you.
So today I am going to deviate from the normal principal's graduation speech. Instead of giving you advice and reminding you of all the things we have taught you, I am going to take a different direction and talk for a moment about the things you have taught us. At the last faculty meeting I asked our teachers to help me with this task. Here are some of the things they shared. They said students have taught me to keep going even when I am the only one who believes in me, they taught me to stay positive when problems occur, they taught me to laugh, to find the humor in most things, to be patient, to persevere, to be flexible, to loosen up a bit, to be creative, to always be open to new possibilities, that anything is possible, and to love them in spite of the goofy things they do. They taught me a colorful new language (side note - we are going to work on that next year). They taught me about humility, compassion and resiliency and how you should enjoy life. They taught me about the power of just listening. One teacher said, they taught me that they will do anything for chocolate. This teacher went on to say, "Every year they teach me how many more people I can love." Someone else said, "Students have taught me not to judge a book by its cover. Just because a kid has a lot of tattoos, that doesn't mean a thing. They could be going into the armed force and will now keep us safe." They taught us that what we do is just as important as what we say. Finally one very positive teacher said, "Students have taught me how to motivate, teach, enjoy and love them. Our Titans are extraordinary. They make coming to TC fun and exciting. Every day is adventure."
As the principal of the school I hear in the news, on twitter, and in the community, horrible tales of what goes on in schools and how bad teenagers are today. And then I come to TC. Every day I see how remarkable our students are. I see first-hand the compassion you have for people in need, the respect you have for diversity and the genuine concern you have for our community. This is what you have taught me. I know you are not perfect, but I have watched you do so many extraordinary things. I have seen you stoop to help a child, defend the honor of a someone different from you, share what you have with someone who has less, hug someone in need and demonstrate incredible kindness. This is the meaning of Titan Pride and why we love and will miss you.
So on this wonderful day of celebration I salute you, the class of 2013 and wish you the best that life has to offer. Now go out there and make the world a better place. God bless you and keep you safe.
It is now my pleasure to present the Principal's Award to the outstanding male and female of the class of 2013. What a hard job it was! There are so many special students in this class that I literally sat down with the yearbook and made lists of students for consideration. My female choice is every teacher's dream. She is bright, conscientious, articulate, mature, kind and caring. Her genuine personality, enthusiasm for TC and her classmates combined with hard work and outstanding organizational skills makes her a great leader. Her poise and sophistication will take her far in life. I can't wait to see what she does in the future. I know it can only be something that will bring pride to her family and community. The Principal's Award for the outstanding female for 2013 goes to DeNancy Brown.
The Principal's Award for the outstanding male student is everyone's favorite classmate. He is bright, conscientious, and hardworking, but he is certainly not stuffy. In fact, he is continually bringing smiles to the faces of those around him. Whether he is doing imitations of his principal, performing dramatic readings of English literature in AP English class, or leading the Fighting Titans in cheers he is making us all smile. He reaches across the generational gap and relates well to both students and staff. He is the ultimate cheerleader of TC and embodies the true meaning of Titan Pride. The Principal's Award for the outstanding male goes to Michael McGonigle.