"Alexandria is very fortunate not just to have our own symphony but to have one of this caliber."
— Former city councilman Frank Fannon
Alexandria — The Alexandria Symphony Orchestra's 10th annual Garden Party drew more than 175 people to the Belle Haven home of Isin and George E. Ludlow June 20 in an event that capped the 25th anniversary celebration of Maestro Kim Allen Kluge.
"When I came here 25 years ago, [ASO board members] Ann and Roy Snyder said 'We are not the backwaters of D.C. We are leaders and deserve the best for our citizens," Kluge told the crowd. "It was a bold move back then and part of what I came to see as the 'can-do' spirit of this community."
ASO musicians provided entertainment with catering by La Bergerie and Del Ray Café. A silent auction was followed by a live auction with Craig Dyson acting as auctioneer.
"Our supporters have been very generous," Dyson said. "We have some amazing items up for auction."
Attendees surveyed auction tables set up around the pool and expansive gardens, with the live auction excitement building over vacation trips to locales including Key Largo, Nantucket, Wintergreen and the Bahamas.
The ASO will kick off its 70th anniversary season Oct. 5 with the first of its "Dreamers and Visionaries" concerts. The season will include renowned violinist Sarah Chang, local favorite Carlos Rodriguez on piano and Matthew Harding on trumpet. Kluge himself will make a rare appearance as soloist in "Rhapsody in Blue."
Photo Gallery
ASO Garden Party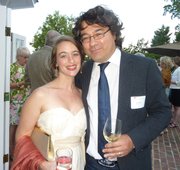 Click Photo for Flash
"I've been a supporter of the symphony for many years," said former city councilman Frank Fannon. "Alexandria is very fortunate not just to have our own symphony but to have one of this caliber."
In addition to its regular concert schedule, the ASO will present several community performances, including the upcoming Alexandria Birthday Celebration at Oronoco Bay Park July 13, and the Children's Holiday Concert in December.
"With this spirit of support in our community comes enormous responsibility," Kluge said. "I honor all of you who share that responsibility with me to ensure that our children and our children's children will be able to enjoy cultural treasures and music of lasting value."
For more information on the ASO and upcoming performances, call Jessica Wisser at 703-548-0885 or visit www.alexsym.org.