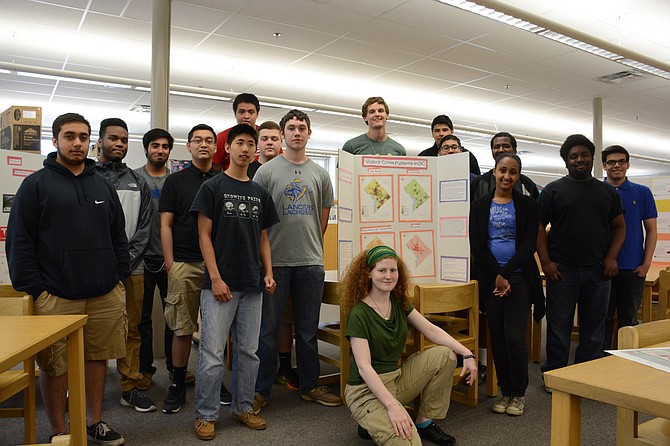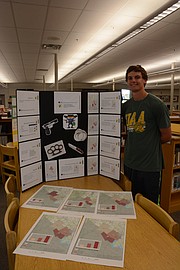 Robert E. Lee High School senior Peter Block studied two decades of violent crime in Loudoun, Prince William and Fairfax Counties. His classmate Brian D'Amore looked into the need for additional Tesla electric car supercharger locations in Loudoun County. Other peers Solomon Araya and Samuel Amarteifio made predictions for 2016 elections in Virginia. On April 21, they all gave formal presentations and backboard talks at the National Geospatial-Intelligence Agency, as part of their Geospatial Analysis class.
Students from Lee and South Lakes High School in Reston participated in the agency's GIS Fair, an opportunity to present for professionals to deal with all kinds of mapping for a living. (GIS is an acronym for geographic information system.)
"This group was able to help find Bin Laden and also help when there's a disaster like Haiti," said Lee assistant principal for science Denise Katz. "It's very eye-opening, things they're learning in school definitely have an application in the real world."
2015 is the second year for the fair, as well as Schaefer's class, comprises (largely male) 28 students. Last year there were two classes, next year there will be two again. Students use a cloud-based program called ArcGIS to learn about creating maps for just about any kind of data.
"Mapping is everything," said Schaefer, who gave the example of "Going to prom: I can map shopping, the cheapest places, the shortest way."
Schaefer reached out to the National Geospatial-Intelligence Agency, Springfield neighbors to Lee since moving to the area from Bethesda in 2011, to enhance the class that is partnership with James Madison University in Harrisonburg, Va. Students who take the class pay a fee but have the option of earning three geography elective credit hours that are viable at Madison and other colleges.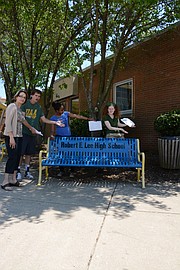 GOING TO THE AGENCY was a chance to interact with professionals from various backgrounds and receive feedback on their work. Each student presented a slide show of their project and fielded questions standing in front of colorful tri-fold backboards.
Over 100 volunteers from the agency reviewed the presentations, according to National Geospatial-Intelligence Agency representative Brittani Beverly. "Everyone mentioned [the students'] ability to speak and present their projects well," she said, "and the detail they gave and included in their maps."
The confidence to present well came from a month and a half of preparing in class. For Peter Block, the experience was "fun and nerve-wracking."
"The professionals gave me helpful tips to make [my project] better, like looking into more variables, why change was occurring, like more liquor stores or gun ranges in the area."
Brian D'Amore was also nervous, but relied on his preparation and "just went with the flow, no regrets." D'Amore is considering criminal justice as a career option and was interested to see opportunities to apply his coursework in that field within the agency.
"We have so many careers here focused around [Science, Technology, Engineering and Mathematics] it basically comprises the National Geospatial-Intelligence Agency," said Beverly. "That's our future, having students who are working in those fields, see degrees in those fields. Now is the perfect time to introduce them into what NGA is, and to find out there is a place right around the corner from where they went to school."
"It was the perfect storm," Schaefer said of the GIS Fair. "The students get to see you don't have to be a scientist to work there."
IF ANY STUDENTS were lacking confidence prior to presenting at the tightly secured agency, the experience helped them grow.
"It was Dorothy and the Emerald City," said Schaefer. "They had the best time, coming out like 'I'm bad, I've been to the National Geospatial-Intelligence Agency.'"