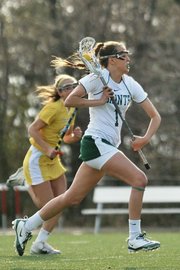 Carly Reed's goal as a freshman on the St. Stephen's & St. Agnes girls' lacrosse team was simply to make the varsity. Many of the Saints had played with one another during their earlier years at SSSAS, while Reed was an outsider from Alexandria Country Day School.
If Reed made the varsity, she figured she'd be the "ball girl."
"My only goal going into high school was to make varsity," Reed said. "I went to ACDS and they didn't even have a lacrosse team there, so I didn't know how I was going to do. … I didn't think I was going to be able to compete with [fellow Saints] at practice."
Turns out Reed was better than she thought.
It took the attacker just two seasons to become the storied program's all-time leading goal-scorer. When she graduated in 2013, Reed had scored 475 goals, which would be a national high school record for a four-year career according to the National Federation of State High School Associations. Reed's 153 goals as a sophomore in 2011 would rank second all time for a single season. She also tallied 103 career assists, giving her 578 career points.
Reed was a two-time US Lacrosse first-team All-American (2011, 2012) and a three-time Washington Post first-team All-Met, including Player of the Year honors in 2012 and 2013.
Reed will attend the University of North Carolina on a lacrosse scholarship. Her older sister, Mackey Reed, also attended UNC. Reed committed to the Tar Heels as a sophomore.
"Ever since I was little, I really wanted to go there," Reed said. "I honestly didn't even consider another school when I was looking to play lacrosse."
Reed said she'll leave for Chapel Hill on Aug. 17. Before then, Reed will participate in the Under Armour All-America Lacrosse Classic on July 6 at Towson University's Johnny Unitas Stadium. Joining Reed on the girls' South roster are former St. Stephen's teammates Besser Dyson (attacker, University of Virginia) and defender Wyatt Whitley (defender, Virginia). Reed will also play with several future North Carolina teammates.