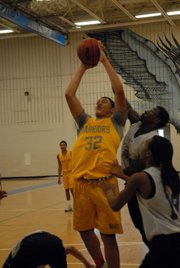 The bad news for the Wakefield boys' basketball team: Khory Moore and Ermias Nega, last season's leading scorer and rebounder, respectively, have graduated.
The good news: The Warriors return three starters from a team that reached the Group AAA state semifinals — the most talent head coach Tony Bentley has had return from a state playoff team.
Wakefield burst onto the scene during the 2012-13 campaign. The Warriors won the National District championship, lost in overtime of the Northern Region final and fell one win shy of reaching the state championship game. While Bentley doesn't like to saddle teams with lofty expectations, it's hard not to see the potential of the 2013-14 Warriors.
A big reason for optimism is junior Dominique Tham. The 6-foot-4 center came on strong during the end of his sophomore season, showing his potential as a scorer, rebounder and shot-blocker. Facing Robinson in the region semifinals with a state tournament berth on the line, Tham recorded a triple-double, scoring 15 points, grabbing 11 rebounds and blocking 12 shots.
Tham showed his versatility during a recent scrimmage at South Lakes. After grabbing a pair of offensive rebounds and scoring on a putback, Tham headed to the other end of the floor to play defense. Moments later, he came up with a steal, drove the length of the court and scored while being fouled.
Senior forward Re'Quan Hopson is a returning starter who has taken on a leadership role. Senior guard Jalen Carver is the other returning starter. Both will be looked upon for scoring.
Junior guard Marqua Walton is a perimeter threat for the Warriors. As a sophomore, Walton lit up Stonewall Jackson for 26 points and six 3-pointers to help the Warriors win the consolation title at their holiday tournament.
Senior point guard Kyle Davis, a transfer from Washington-Lee, will take over primary ball-handling duties. Junior forward Riley Wilson, a transfer from Yorktown, should give Wakefield a physical inside presence.
While Wakefield has the talent to succeed, the Warriors will have to make it happen without Moore, who now plays for Virginia Wesleyan, and Nega. In last year's season-opener against Fairfax, Moore scored 22 points and knocked down six 3-pointers. Nega scored 24 points and grabbed 12 rebounds. Near the end of the season, the duo was still producing at a high level. Moore scored 37 points and buried six 3-pointers in an overtime loss to Woodson in the region championship game, and Nega scored 32 points and grabbed 13 rebounds against Mountain View in the state quarterfinals.
Wakefield will open the regular season at home on Dec. 7 when the Warriors take on T.C. Williams in the annual Hoffman-Boston/Parker-Gray memorial game.