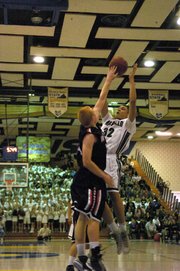 Fairfax — Wakefield sophomore Dominique Tham covered his face with his jersey. Senior Khory Moore pulled his jersey over the back of his head, leaving his face exposed as a cloud of disbelief hovered over the Warriors bench. Head coach Tony Bentley stood with his hands in his pockets and a blank expression on his face.
The Wakefield boys' basketball team was 8 minutes away from cutting down net. The Warriors needed only to protect a 19-point lead to secure the program's first Northern Region title since 2005. But at the end of the night, an epic comeback by Woodson rendered Wakefield region runner-up and left the Warriors to watch as the Cavaliers were recognized as champions.
Woodson defeated Wakefield 75-70 in overtime during the Northern Region tournament final on Feb. 23 at Robinson Secondary School. The Warriors led by as many as 22 points in the second half and held a 52-33 advantage entering the fourth quarter. But Woodson opened the final period on an 11-0 run and eventually outscored Wakefield 26-7 to force overtime. In the extra period, Tommy Stepka buried a 3-pointer with 2:10 remaining, giving the Cavaliers a 65-62 lead they would not relinquish.
How did the Warriors handle the loss?
"Tough," Bentley said. "I want them to take it tough, because if I had a bunch of guys that came out here and were just happy, I'd be pissed. Yeah, they're taking it hard, especially some of the seniors who worked hard to get to this point. You don't want to just get here and walk away with this [runner-up trophy] in your hand, you want the big prize."
"There are 28 other teams that are home and we're still playing next week."

— Wakefield boys' basketball coach Tony Bentley
One positive Wakefield could take away from the situation was the Warriors had clinched a state playoff berth by defeating Robinson 68-58 the night before.
"There are 28 other teams that are home," Bentley said, "and we're still playing next week."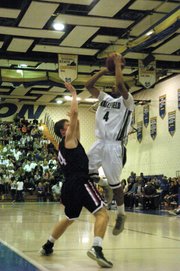 However, that likely failed to immediately dull the pain of squandering a massive lead. Moore buried his sixth 3-pointer of the evening with 1:02 remaining in the third quarter, giving Wakefield its largest lead of the game at 52-30. But the Warriors managed just one field goal during the next six-plus minutes as Woodson worked to erase the deficit.
"I'm still in awe and shock of what happened ..." Woodson senior Peter Murray said after the game.
Murray's 3-pointer with 1:20 remaining in the fourth quarter tied the score at 59-all. Neither team scored for the remainder of regulation and the game went to overtime. Moore opened the extra period with a bucket, but Woodson's Damian Bell responded with a 3-pointer, giving the Cavaliers a 62-61 lead — their first lead since the 5:33 mark of the second quarter.
"I think they got the first basket (of overtime) and [Bell's 3-pointer] was the dagger," Murray said. "At that point, once we took the lead … I think Wakefield just kind of crumpled up and backed down."
Moore tied the score at 62-all with a free throw, but Stepka responded with a 3-pointer and Woodson led for the remainder of the contest.
Moore finished with 37 points and six 3-pointers in defeat. Tham had 12 points and 10 rebounds. Jalen Carver finished with 12 points and Ermias Nega had six points and 12 rebounds.
Murray was named tournament MVP. Moore and Tham were named to the all-tournament team.
Wakefield will travel to Richmond to face Northwest Region champion Mountain View in the state quarterfinals at VCU's Siegel Center at 5:30 p.m. on Thursday, Feb. 28.