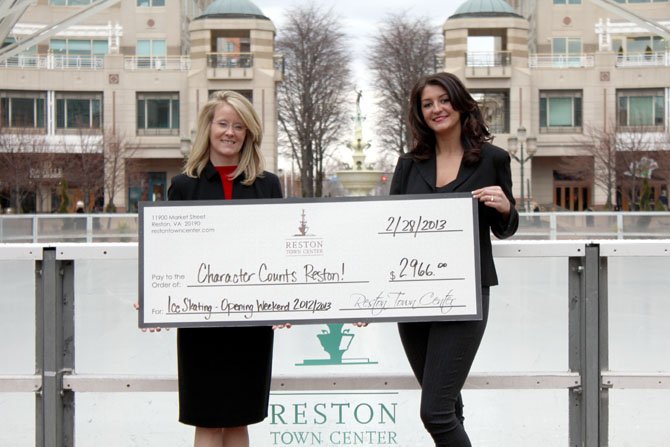 Reston Town Center's ice skating pavilion presented a check for $2,966 to Reston Character Counts! Coalition. As an annual tradition, the coalition has received 50 percent of the opening weekend proceeds from the Reston Town Center ice skating pavilion for many years. This contribution helps fund the coalition's development programs, including the annual Essay and Poster Contest, and sponsorship of Ethics Day at South Lakes High School.
Reston Town Center's ice skating pavilion is open daily for recreational skating until the season concludes on Sunday, March 10, as weather permits, and will re-open for the 2013-2014 season on November 1. Throughout the ice skating season, the rink hosts a number of fundraising events for a variety of non-profit organizations. For more information on booking fundraisers, birthday parties, private parties, lessons, and other options at the Reston Town Center ice skating pavilion, call the skating hotline, 703-709-6300, or email skating@restontowncenter.com. For hours of operation, rates, and more information, visit www.restontowncenter.com/skating.
Reston Town Center Pavilion will begin its event season on Saturday, March 16, with the third annual Clyde's of Reston St. Patrick's Day Party in the pavilion, all day from 10 a.m. until 11 p.m. Preceding the party is the Lucky Leprechaun 5K at 8:30 a.m., presented by Potomac River Running. On Sunday, March 17, the Persian New Year will be celebrated with a free Nowruz Festival in the pavilion and on Market Street from 11 a.m. until 5 p.m. See details of these events and more at RestonTownCenter.com/events.