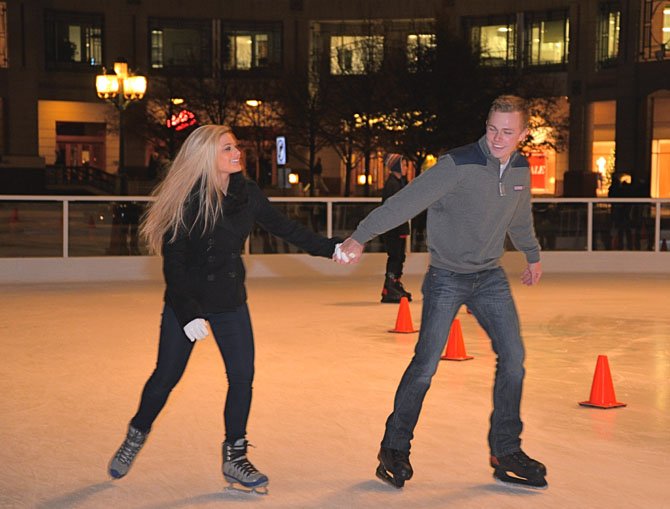 Mother Nature did not cooperate with the planned Reston Town Center Skating Rink season opener this weekend. On Monday, the region woke up to temperatures that dipped to freezing in some parts of the county, but 48 hours ago, when the skating rink was scheduled to open, unseasonable warmth made the surface beneath Town Center Pavilion look more like a swimming hole than an ice rink. The rink traditionally opens with a fundraiser, with 50 percent of skating rink proceeds donated to Reston Character Counts Coalition to fund programs like the annual Essay contest and Ethics Day at South Lakes High School. "The funds will still be raised," said Pavilion Manager Marissa Marwell. "We're on for next weekend, Nov. 9 and 10. Come on out."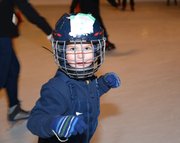 If the fanfare of the opening program was lacking during Monday's regularly scheduled hours, it was made up for by the energetic skating efforts of those who came out to enjoy the first opportunity of the season to play on the ice. The evening session consisted mostly of the high school crowd, although there were a few younger and older enthusiasts sprinkled in the mix. Herndon and Reston locals made up the majority, but there were plenty of skaters who came from Sterling, Leesburg, and even overseas. Active Army man Chad Parkening had just come off a plane from Stuttgart, Germany, on a three-week leave to visit family in Herndon. "We're trying to fight the jet lag," said Parkening, "keep everybody going so we can get in the right rhythm." His two young daughters, Stella, 6, and Sydney, 5, did not look to be lagging as they hung from the rink walls watching the action.

The rink is located right in Town Center at 1800 Discover Street, Reston, and will now be open every day until March. Admission is $10 for adults, $8 for children and adults over 55. Skates are available to rent for $5. The Skate Shop is located beside the Pavilion, next door to Clyde's. Information about hours of operation, special skating events, party and corporate packages and skating lessons is available online at www.restontowncener.com/skating, or on the skating hotline 703-709-6300.