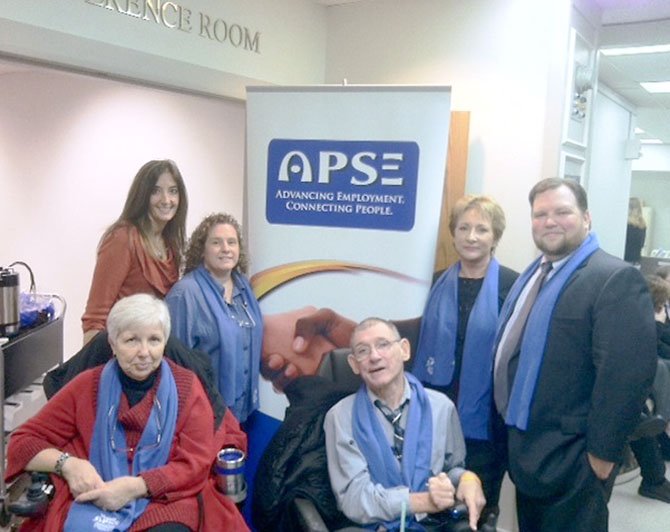 Editor's Note: This is part of an occasional Q&A series with your state, local and national representatives. The Connection interviewed Del. Eileen Filler-Corn about her legislative victories and losses during the 2013 General Assembly "short" session.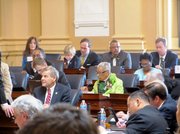 Transportation funding was one of the big stories to come out of Richmond during the 45-day "short session," but it wasn't the only one.
Unlike Congressional gridlock, where lobbyists, special-interest groups and political aspirations converge to slow down legislation, the pace in Virginia's capitol is fast and furious. Legislation gets passed in the blink of an eye. It's a pace Delegate Eileen Filler-Corn, the second-term Democrat representing nearly 90,000 residents in Burke, Fairfax and West Springfield, knows well.
About Del. Filler-Corn
For more than 24 years, Eileen and her husband Bob have lived in Fairfax County along with their children, Jeremy, 18, and Alana, 16. Delegate Filler-Corn serves on the Finance Committee, Transportation Committee and the Militia, Police and Public Safety Committee. In addition, she was appointed to the Joint Commission on Transportation Accountability, and serves as co-chair and founding member of the bipartisan General Assembly Arts Caucus.
She is currently the director of government relations for Albers & Company, where she serves as liaison to the National Governors' Association, the National Conference of State Legislatures, the Council of State Governments, the Southern Governors' Association, the Senate Presidents' Forum, State Legislative Leadership Foundation and the National Association of State Chief Information Officers.
Del. Filler-Corn's website is www.eileenfillerc.... Her e-mail address is delefiller-corn@h.... She is active on Facebook, with updates for the community. You can "like" her at Eileen Filler-Corn for delegate to receive these updates. She also encourages citizens to contact her with ideas for legislation that would improve the community.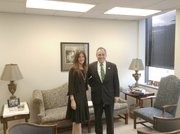 Before she became one of the few women serving in the Virginia House, she learned to navigate the political process in Richmond during her tenure as deputy director of the Virginia Liaison Office in Washington for Governor Mark Warner, as well as a senior advisor to Governor Tim Kaine. She also chaired the National Governors' Association Executive Committee Staff Advisory Council during Governor Warner's term. At the beginning of the 2013 General Assembly, she introduced 13 bills for consideration. Her legislative priorities included education, transportation and public safety. She also introduced legislation focused around cutting college students' expenses, expanding voting hours, protecting children and protecting funding for Virginia Railway Express.
Q: What drove your legislative agenda this session?
A: With a short session, I decided to introduce important legislative proposals that would make a difference for the 41st District and across the commonwealth. It is always my priority to reflect the views of my constituents and address the issues that affect our community.
Like every legislative session that I have participated in, I dedicate the nine or 10 months away from Richmond speaking to constituents in my district about legislative ideas, their concerns and issues they have noticed in the community. Every day I strive to reflect the voice of my district and help those in our area that may need state-related assistance.
Q: Bullying is a hot topic for every parent. What motivated you to sponsor the legislation on that issue?
A: HB 1871, which I was proud to co-patron, defines the term "bullying" as any aggressive and unwanted behavior that is intended to harm, intimidate, or humiliate the victim. It also requires schools to establish a prohibition against such behavior and adopt policies to create a bully-free environment. This was important legislation in order to establish a clear and legal definition of bullying and to help prevent it in our schools. Too often today we hear about tragic instances of bullying gone too far and this legislation takes another step forward to prevent another unfortunate event.
Q: What were the most important pieces of legislation this session?
A: This session saw two of the most important measures passed during my time in the House of Delegates. The final day of the Legislative Session was a historic one for the commonwealth. A new comprehensive transportation package passed and is awaiting the governor's signature. In addition, the budget passed and included Medicaid expansion. Both of these measures underwent considerable revisions and compromise throughout the seven weeks of extensive debate and consideration. I supported the transportation plan, which will generate $880 million annually for statewide transportation funding, and provide another $350 million for Northern Virginia transportation projects. In addition, this bill provides dedicated funding for mass-transit and inter-city passenger rail and includes $300 million for Phase II of the Dulles Silver Line metro. I feel strongly that the benefits represented by this comprehensive plan successfully help address our area's transportation needs, however I did not agree with every aspect of the transportation package. I was disappointed in the $100 fee that was included for hybrid vehicles, a provision that I opposed. It is my hope that removing this specific provision will send a message to the 91,000 Virginians that drive these vehicles, including many in my district, that we applaud their effort to help sustain our environment while reducing our dependence on foreign fuel. I have spoken to the governor about this issue and followed up with a letter requesting that this portion of the bill not go into effect.
Additionally, the General Assembly passed the budget, which agreed on a way forward to expand Medicaid coverage to nearly 400,000 additional Virginians desperately in need of adequate health care options. Included among the approved budget amendments was a commitment to allow Virginia to opt into the federal Medicaid expansion program once it is determined that appropriate reforms are in place. With the federal government paying 100 percent the first three years and 90 percent thereafter, Virginia will save $317 million over a five-year period on Medicaid costs.
I am now optimistic that we can focus more of our efforts on improving our schools, creating new jobs, expanding economic development and furthering our reputation as one of the best states in which to raise a family and establish a business.
Q: What was your biggest disappointment this session?
A: Again, this session, little progress was made on many important issues such as education, women's health rights, gun safety and voting rights.
My bill, HB 1774, which would have extended voting hours from 7 p.m. to 8 p.m. for the benefit of commuters and all voters, did not advance out of subcommittee due to a lack of funding and registrars that said they are overworked.
In fact, a number of bills were passed that will make voting more difficult rather than easier for voters. Legislation was passed that requires photo identification in order to vote, which will negatively impact voters who do not have a birth certificate and will force voter registrars to purchase costly equipment to provide a substitute ID for those who request it. Another measure that passed requires the use of a federal scanning database to remove non-citizens from the voting rolls, even though this database has proven faulty and prevented some naturalized citizens from exercising their right to cast a ballot.
Additionally, my bill HB 2199 did not advance from the House Appropriations Committee after being referred by the Education Committee. This bill was intended to increase the numbers of students eligible for expedited retakes of the Standard of Learning tests given to the commonwealth's public school students. Currently, only high school students are allowed to take retakes if they score within 25 points of the passing score. Students may not pass their SOLs for a variety of reasons, and they should be given a chance to retake them. Moreover, it is important to instill confidence, particularly in our younger children, who may be negatively impacted if they do not have the opportunity to retake a failed SOL test. This legislation was supported by the Superintendents Association, several County School districts including Fairfax, and the Virginia Education Association. It is my hope that this bill can advance next year using a different approach through a budgetary amendment.
Q: Describe your experience as a woman in the House of Delegates.
A: I serve with only 18 other women in the Virginia House of Delegates and I believe I am only one of two moms with school-aged children. I believe women can bring a different perspective and quality to the state capitol, one of consensus building, "getting things done" and cooperation. Our perspective, experience and ability to engage and inspire are unique characteristics which can be helpful in Richmond. With the recent women's health issues debated over the past two years, it is even clearer to me the need to elect good, smart, quality women to the General Assembly.
In recent years, such outstanding women members of the General Assembly including Delegate Vivian Watts and Senators Janet Howell and Toddy Puller, with whom I am now honored to serve, have set a very high example for the 25 current female members of the General Assembly. In this regard, I have always strongly encouraged women, who are interested in becoming candidates to do so, and I frequently speak to such groups as the Girl Scouts about the importance of civic duty and the opportunity to serve their community and address major women's issues.
Highlights of Del. Filler-Corn's session:
Details on all of Del. Filler-Corn's bills and what happened to each bill can be found at lis.virginia.gov under her name.
HB 1778—Informing women of increased risk of breast cancer due to dense breast tissue. This bill requires doctors to include information of the increased risk of breast cancer due to dense breast tissue on a mammogram, describing the potential link to cancer. This bill builds on legislation that was signed into law last year and is an important step forward for women's health. The additional screening and procedures that many women will undergo following a consultation and notification from their mammogram about dense breast tissue can be life saving. This bill passed the House and Senate unanimously and now awaits the governor's signature.

HB 2041—Allows the Recreational Access Fund to utilize guidelines instead of regulations to fund access roads and bikeways to public recreational areas and historical sites. This bill replaces language that requires the Commonwealth Transportation Board (CTB) to adopt regulations for administrating the Recreational Access Fund, with language authorizing the CTB to utilize guidelines instead. This streamlines the Recreational Access Fund's administration and improves government services to Virginians, while still allowing for the public's involvement in the decision making process. This bill passed both the House and Senate unanimously and awaits the governor's signature.

HB 1777—Creating an online database of free textbooks for college students. This bill would reduce costs for college students and their families by creating an online database where they can access digital versions of up to 50 textbooks at no charge for some of the most common prerequisite courses. It also would create an open source digital library. The bill has been referred to the Joint Commission on Technology and Science (JCOTS), which will bring together interested stakeholders to discuss all of the aspects and concerns relative to this proposed legislation and thus hopefully move this bill forward in the future.

HB2201—Require the installation of carbon monoxide detectors in all new public school construction and rehabilitation of existing public schools. This bill would protect children from the dangers of potentially deadly leaks by requiring carbon monoxide detectors in all new school construction and any renovations of existing schools. After discussions with the Department of Community and Housing Development (DCHD) it was determined that the best route of action for this proposal was via the regulatory process through DCHD. Therefore, at my request, the DCHD is now reviewing regulatory action with regard to implementing this important requirement in all new schools as well as those undergoing structural renovations.

HB1782—Protecting children from dangers of concussions. This bill would require third-party organizations using public parks and schools for sporting events to adopt concussion guidelines in accordance with Virginia requirements or from the locality where the event is being held. This topic and issue will now be sent to the Joint Commission on Health Care for their 2013 study plan.

HB 1774—Making it easier for citizens to vote. This bill would have extended voting hours by an additional hour, until 8 p.m. on Election Day. The proposal would have made it easier for workers, commuters, caregivers and young people to participate in the voting process by providing more time to get to the polls. Although the bill did not advance, it sparked important conversation among legislators, election officials and citizens.