The Vienna Youth Soccer (VYS) U15 Girls Strikers Red soccer team won their bracket at the Arlington Soccer Invitational Tournament, defeating the Saint Marys United U15 Wildcats 5-1 in the final.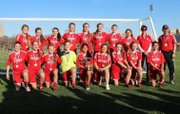 The Strikers were undefeated in the two day tournament, beating teams from Burke Athletic Club, Arlington Soccer Association and Lionville, Pa.  
The Strikers Red players are Madison August, Julie Carey, Olivia Dabich, Elise Dirkse, Sam Flowers, Alivia Gharib, Anneliese Goetz, Susie Hyland, Megan Kenny, Jessie McHenry, Ana McMenamin, Patricia O'Reilly, Michelle Paredes, Alex Sorrell, Vicki Spina, Julia Walker, Madeline Walker and Lindsey Wiley. The Strikers are coached by Gerardo Ramirez and Jennifer Wiley, and managed by Phil Kenny.