The new owner of Mediterranee is kicking off a series of local art exhibitions at his restaurant with a painter whose work features scenes from Great Falls and other nearby parks.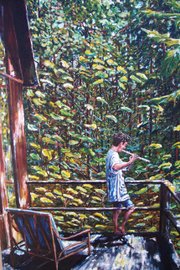 The vibrant colors in Frank James Ellis' landscapes drew the eye of Ashraf Hussein, the Mediterranee owner responsible for the series of in-restaurant exhibitions. The first is a solo exhibition featuring eight of Ellis' impressionistic, modern paintings.
Among the pieces on display are "Hazel Mountain Overlook," a vibrant Skyline Drive scene done in fall colors, and "The Flute Player," a contemplative piece with impressionistic, bold color depicting a flautist performing alone in nature at a cabin.
Ellis' work is held in private collections throughout the United States, United Kingdom, Europe and Japan.
The paintings will be part of a yearlong series at the restaurant featuring the work of local artists.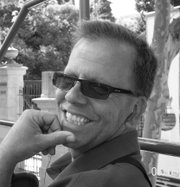 "As a community restaurant—and as members of the community—we really feel it's important to support local culture," said Hussein's business partner Eddie Marine.
"Ellis' paintings really give you a flavor of the community," Hussein said. "We're excited to have his work on display."
Born in Washington, D.C., and raised in Southern Maryland, Ellis is a product of the informal art classes of public education. He studied the works of great impressionists like Monet, Van Gogh and Cezanne while attending the local community college. Mostly self-taught since, this emerging contemporary artist maintains his studio in the Parkview area of Washington, D.C.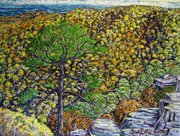 Prior to this exhibit, Ellis had a show at MOCA Gallery in the district.
Mediterranee serves American bistro cuisine with Mediterranean influences—and lots of art on the walls to go with. The menu features seasonal ingredients and local produce. All Ellis' work will be for sale. Prices range from $300 to $900.
Mediterranee Restaurant is at 123 Colvin Run Road, Great Falls.