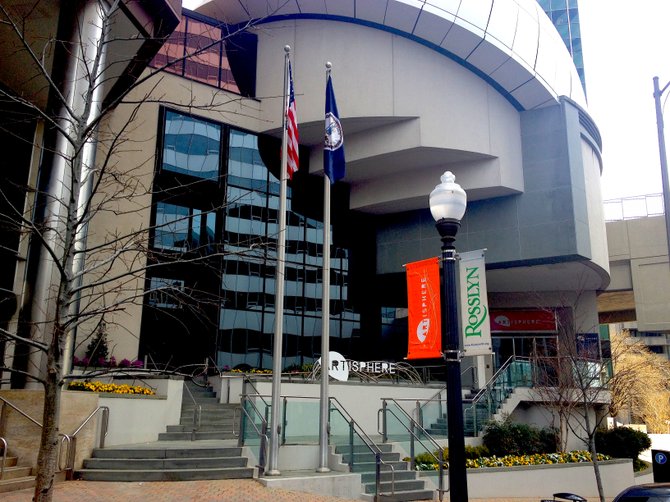 Place
1101 Wilson Boulevard, Arlington
Artisphere
The future of Artisphere will be either a masterpiece or a dud — opening up the Rosslyn space to an uncertain future.
The art center is located in a building that was originally constructed to house the Newseum, which eventually moved to Pennsylvania Avenue. Artisphere opened in 2010 with funding from the Rosslyn Business Improvement District and the county government. Expectations were sky high.
"We had some really overly optimistic projections," said Annalisa Meyer, marketing director for Artisphere. "The initial business plan that said we were going to be sold out from day one, which doesn't happen for any art center organization."
That business plan was spiked, and another one was drawn up. Now county leaders are rexaminging their commitment to the operation.
"At some point in the very near future, it was felt that it could be self-sustaining and that the county could remove all financial support," said Karen Vasquez, director of Cultural Affairs for Arlington County. "But that's just not the case. Arts and cultural facilities across the country exist with the ssupport at the local, state or federal levels."
COUNTY TAXPAYERS have kicked in about $2 million a year to help launch the art center. But now county leaders are moving forward with a new plan to remove about half of the regular funding and replace it with one-time money — a move toward withdrawing public money and letting the operation finance itself.
"As we are mid-way through our second full year of operations, I am assessing its performance and programming model," wrote Arlington County Manager Barbara Donnellan in her budget proposal. "The combination of one-time and ongoing funds will allow us to pursue a variety of options as we consider the future of the Artisphere."
The center has four performance venues, three galleries and a 4,000-square-foot ballroom that is rented out for events. Programming includes visual art, threater, music, film, dance, conferences and private events. On a recent afternoon, Angela Kasey waited to tour the facility so she could book it for the Northern Virginia Urban League. As she waited for the building to open its doors, she said she was worried about what would happen if Arlington County Board members pulled funding for the Artisphere next year.
"I would encourage them to continue the funding," said Kasey, who lives in Fairfax County. "I understand there are many other things they need to pay for, but I do believe that pulling the funding would pull the plug on Artisphere."
LAST MONTH, Donnellan proposed an operating budget that sets aside $900,000 in regular funding and $900,000 in one-time funding. That means that the museum may have to raise more of its own money after next year. County leaders say the long-term plans for the art center have always included a withdrawal of public money, and that the current budget squeeze sets the stage for the operation being able to maintain itself.
"We went through a period where we were trying to get the operation off the ground," said Richard Stephenson, budget director. "All along, the plan was that it would eventually spin off into a 501(c)(3). Whether it does in the future or not, I have no idea."
Today, visitors to the center can see a balloon attached to a pencil that draws on a piece of paper. The piece demonstrates how circumstances can shape art.
On the sidewalk outside the facility, fans of the Artisphere say they are worried that a lack of county money would mean the end of their beloved institution.
"It's not your typical mundane canvas," said Keisha Robinson, who lives in Tysons Corner. "Some of it is very urban and modern and musically influence."
WHAT WILL HAPPEN next year is yet to be determined. If revenues pick up, county leaders will have the kind of money they had when they launched the operation. But if the sequester ties up finances, County Board members may be looking for places to reduce funds. That means the future funding for the Artisphere is a work of art that's yet to be completed.
"That's to be determined," said Stephenson. "We are trying to determine what the best fit of programs and operations, then the County Board needs to make a decision on how they want to move forward with the operation."