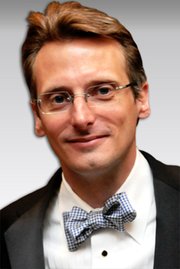 Tom Hughes wasn't going to let cancer rob him of his sense of humor.
Throughout his four-month battle with the disease, the 47-year-old was always quick with a smile and generous with his wit with wife Jane, his children Margaret, 15, and George, 13, and extended family and friends.
"While cancer took its toll on his body, it could not take control of Tom's heart, mind or spirit, which was evident until the day he died," said close friend and neighbor Cathy Puskar.
On April 29, 2013, Thomas "Tom" M. Hughes lost his brief battle with cancer.
A native of Massachusetts, Hughes attended Bryant College, where he earned a bachelor of science in economics before serving three years as a U.S. Army officer with the 708th support battalion in Bad Kreuznach, Germany. He went on to graduate magna cum laude from Suffolk Law School in 1996.
After graduation, Hughes moved to Alexandria, where he worked for the Federal Trade Commission. He went on to practice at Hunton & Williams LLP for 13 years before joining Thompson Hine LLP in 2011.
"No matter what it was or how big or small of an endeavor, Tom had fun doing it," said Jane Hughes' brother-in-law Jeff Langley. "Getting his law degree, becoming a serious cyclist, getting married, becoming a kayaker, being a father, a marksman, buying a house in Alexandria then having it remodeled, he really did enjoy the journey and challenges."
Hughes was an avid outdoorsman and enjoyed cycling, fishing, camping and kayaking with family and friends. He was renowned for his sense of humor and devotion to his family, as evidenced in the way his face would light up whenever his wife and children entered a room.
"Tom and Jane always seemed like they were in their second month of dating," said Langley. "They were always still excited to spend time together."
Puskar's brother, actor Chip Esten, currently playing heartthrob Deacon Claybourne of the hit television show "Nashville," visited Hughes during his time in hospice.
"I've never seen 'Nashville' so to me Chip was my favorite improv guy from the Drew Carey show "Whose Line Is It Anyway," said Langley. "Chip was talking to Tom's parents, comforting them, when Tom Sr. told Chip that they were lucky to have so many great friends. Chip said 'It's not luck. Tom and Jane attract people like that because of who they are.'"
Langley continued: "I've been through enough of these things, funerals and the like, to know people mean well, say nice things, but there's really nothing you can say to make things better. But that comment from Chip got me thinking. Tom Hughes was who he was from having wonderful, loving parents and family. He decided what kind of person he wanted to be and became that. That person attracted a wonderful woman named Jane Lynch. They created a life together and had two great kids and surrounded themselves with sincere, genuine, life and fun loving friends ... and Chip is right, luck had nothing to do with any of that."
In addition to his wife, children and dog Daisy, Hughes is survived by his parents, Thomas and Carol Hughes of The Villages, Fla.; brother, Jeff (Jeanine) Hughes of Sturbridge, Mass.; sister, Susan (Jeff) Langley of Boca Raton, Fla.; his grandmother, Anna Fijal of Webster, Mass.; as well as several aunts, uncles, nieces, nephews and numerous friends.
A visitation will be held on Sunday, May 5, from 2-4 p.m. and 6-8 p.m. at Everly-Wheatley Funeral Home, 1500 W. Braddock Road. A Mass of Christian Burial will be held on Monday, May 6, at 10 a.m. at St. Rita Catholic Church, 3815 Russell Road with interment to follow at Ivy Hill Cemetery. In lieu of flowers, memorial contributions may be made to Capital Caring (www.capitalcaring.org) and The Board of Lady Managers of Inova Alexandria Hospital, P.O. Box 16453, Alexandria VA 22302. Flowers and a guest register may be found at www.everlyfuneralhomes.com.