Beginning May 17, the Northern Virginia Players will perform Disney's "Alice in Wonderland, Jr."
Join Alice's madcap adventures in Wonderland as she chases the White Rabbit, races the Dodo Bird, gets tied up with the Tweedles, raps with a bubble-blowing Caterpillar, and beats the Queen of Hearts at her own game.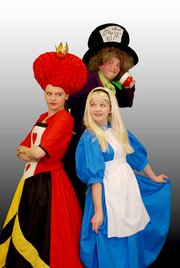 The fast-paced musical features updated dialogue and new arrangements of such classic Disney songs as "I'm Late," "The Un-birthday Song" and "Zip-A-Dee-Doo-Da."
Northern Virginia Players has been entertaining audiences of all ages since their start. Shows are co-directed by theater veterans Kate Wittig and Ann Eul, and the cast is from throughout Northern Virginia. NVP is known for its exceptional talent, costumes and staging, which supports professional quality theatre at the community level.
Northern Virginia Players will dedicate these performances in loving memory of Bobby Collar. Collar, a friend and fellow actor, died unexpectedly Feb. 14, 2013. Part of ticket proceeds will be donated to the Bobby Collar Memorial Fund.
Show Dates & Times:
May 17, 18, 31 and June 1 at 7:30 p.m.

May 18 and June 1 at 1:30 p.m.

Performances held at Burke Community Church, 9900 Old Keene Mill Road.

For more information and to purchase tickets, please visit NVPlayers.com. For photos from previous shows and updates, visit their Facebook page at "Northern Virginia Players." For questions, please call 703-866-3546.