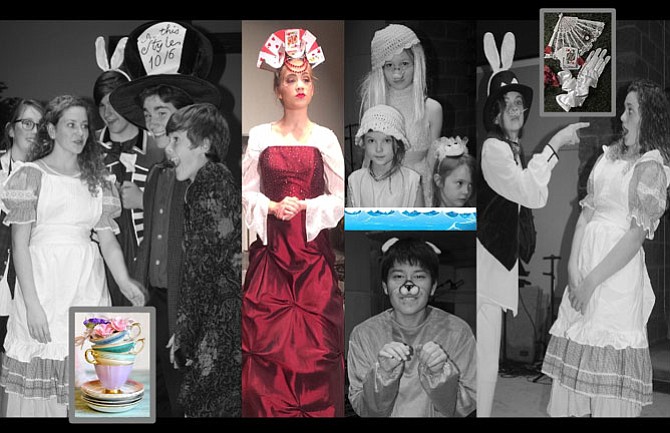 Have you ever had a dream so whimsical that it swept you away to another world? A young girl named Alice has, and we invite you to see her adventures come to life in Sovereign Grace Church (SGC) Youth Drama's production of "Alice's Adventures in Wonderland… and the story behind the Madness!"
It's been 150 years since Charles Lutwidge Dodgson – or, perhaps you know him by his pen name Lewis Carroll – published "Alice's Adventures in Wonderland." We thought, what better way to commemorate this beloved children's tale than to transcribe the original text into a play that tells the whole tale, and also breaks the "fourth wall" by telling the story behind the madness.
"Few plays allow actors to let loose and be crazy … this is one of those plays!" said high school senior William Mills, who plays the Mad Hatter and Mr. Dodgson. Senior Jared Okada, who plays the Mouse and Bill the Lizard, said "I love… being able to step into the lives of [others] … experiencing their realities." What a dreamy reality these creatures have. Hannah Black, the Queen, said "I'm very excited to be able to play such a fantastic character … experimenting with how I say my lines and how I want the Queen to be portrayed is a really fun experience!"
In this, eighth season, the young cast has stepped up to collaborate on everything from sound effects to stage movement, costuming to choreography. "All has to be completed and perfected in a few short months," said Okada. Leah James, the White Rabbit and Caterpillar easily summed up the entire process in these three words, "It's organized chaos!" It is also truly a community theatre, thanks to friends of the cast who've come in to lend their talents to the production. A portion of the proceeds from this play will go to an orphanage school that many of the cast families have been involved with for several years.
We all, at some time, are "looking for a wonderful adventure," said Sophie Bricker, who plays the part of Alice. So bring your family and let's go on an adventure together on Dec. 3 and 4 at 7 p.m., and Dec. 5 at 1 p.m. Performances will be held in the main auditorium of Sovereign Grace Church, 5200 Ox Rd, Fairfax. Tickets are $10 for adults; $8 for children ages 3 - 17. For more information and sneak peak photos go to www.facebook/Aliceinfairfax.com.