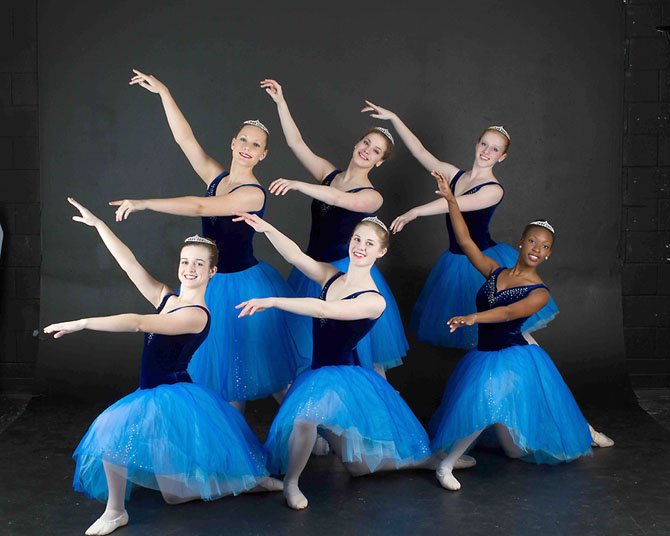 The Fairfax Academy Dance program will present its spring concert—Red, White and DANCE!—on Friday, May 17, and Saturday, May 18, at 7:30 p.m. in the Fairfax High School auditorium. Fairfax Academy is one of six high school academies in Fairfax County Public Schools (FCPS).
This year's concert will showcase American music and dance styles, from a ballet set to George Gershwin's "Rhapsody in Blue" to tap and jazz pieces set to American standards and show tunes along with modern and hip-hop dance styles featured in original choreography. Senior Joey Day's signature project dance, "You and I," will premiere at the concert. You and I incorporates original music and choreography created by Day and was recognized for outstanding choreography at the academy's Black and Blue Choreography Showcase earlier this year.
The highlight of this year's concert will be the performance of Paul Taylor's modern dance classics "Aureole" and "3 Epitaphs," taught to students by one of Taylor's former company members, Connie Dinapoli, during her year-long residency with the Fairfax Academy Dance program. Fairfax Academy Dance students also had the opportunity to visit Paul Taylor's studio during their annual trip to New York City, where they received additional instruction in modern dance technique from current company members. While all students learned the pieces in class, a select ensemble, chosen by audition, will perform the dances. The performance of the Paul Taylor pieces—a rare occurrence for a high school program—is the culmination of a collaborative performance arts project headed by Andrea Heininge, Fairfax Academy Dance instructor, with assistance from a Wolf Trap Foundation grant awarded for outstanding instruction. Additional funding was received from the City of Fairfax Commission on the Arts.
Fairfax Academy's Dance program prepares students for college and career opportunities in the performing arts, focusing on the development of skills needed for success not only in performance, but also in related fields such as arts management, teaching, therapies, theater and communication. Red, White, and DANCE! tickets are available for $10 via pre-sale and $15 at the door. Pre-sale tickets are available online or from the dance program.