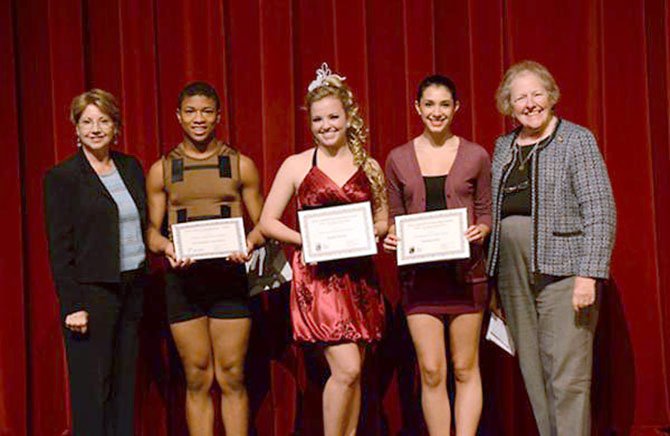 Three Fairfax County high school seniors won dance scholarships at the Fairfax County Dance Coalition (FCDC) Third Annual Gala Showcase, A Celebration of Dance, Sunday, Oct. 7. This year, says FCDC President Marilyn York, "the Arts Council of Fairfax County (ACFC) joined FCDC to expand the number of scholarships awarded." Penelope Gross, Mason District County supervisor, and Linda Sullivan, president of the ACFC, presented the scholarships.
The three dance scholarship recipients are Christopher Saunders, Audra Avery and Kailey Leinz. Each will receive $500 to be used for tuition at a college, university, conservatory or summer intensive program for the 2013/2014 school year. Saunders attends Fairfax High School and studies dance at Center Stage Dance & Arts Center. He's been training in dance for four years. Avery is home schooled and studies dance at Encore Theatrical Arts Project.
Leinz attends Lake Braddock High School and studies dance at The Center for Ballet Arts. Both Avery and Leinz have been dancing for 14 years. Avery is home-schooled.
The FCDC Gala, performed at the Northern Virginia Community College, Annandale Campus theatre, featured 12 companies and a mix of ballet, tap, jazz, modern, musical theatre and Indian dance styles. Participating companies include: BalletNova, Center Stage Dance Company, Dancin' Unlimited Jazz Dance Company, Encore Theatrical Arts Project, Gin Dance Company, Impact Dance Company, Lasya Dance Company, Nrityanjali Dance Company, The Ballet Arts Ensemble of Fairfax, The Fairfax Ballet Company, The Kintz Mejia Academy of Ballet and the Virginia Ballet Company.