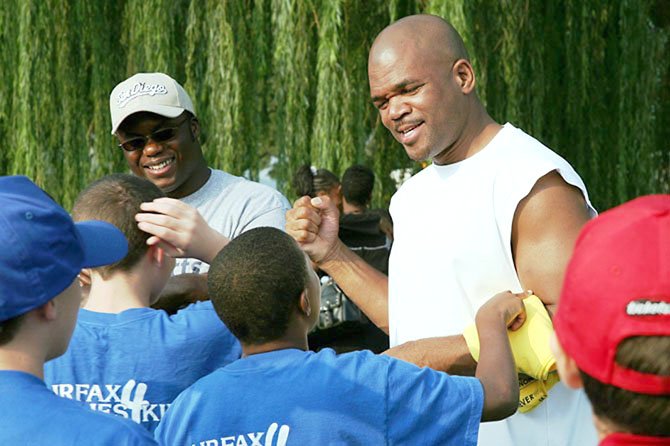 Pastor King Rhodes is founder and senior pastor of His Church International Christian Center (HCICC) in Springfield, and has been involved in Christian ministry and community outreach for more than 20 years. As a longtime advocate for foster youth, Rhodes and his ministry help support the mission of Fairfax Families4Kids, a foster-mentoring program for teens in Fairfax County. On Saturday, May 18, Rhodes' church will sponsor the organization's 5-K Walk during Foster Care Appreciation Month. "Pastor Rhodes has helped us in so many ways," said Beverly Howard, director of Fairfax Families 4 Kids. "His church has provided individualized school backpacks for all of our kids for many years. His church also provides a family picnic after our 5K walks, and has team members walk along with the youth. He personally was at our first 5K walk in 2006 when we met Darryl 'D.M.C.' McDaniels."
Q: I understand that you have a special connection and perspective on foster care. Tell me about your experience:
A: When I was around 10 years old, along with my two younger brothers and a sister, we went from being homeless on the streets of Memphis to a 30-day emergency shelter to being placed into the foster care system. These were lonely and tough times, especially when they separated me from my siblings, sent me to Saint Peters Home for Children in Memphis where I lived until I was 12 years old. After being in Saint Peters Homes for Children I was sent to live with my grandmother along with my brothers and sister once again. My grandmother adopted us temporarily, and I stayed with her until I was 14, and then we were separated again, only this time it was for good and each of us went to live with different relatives.
The relative that I was sent to live with abandoned me when I was in the 10th grade so I lived on my own.
Q: How have your personal experiences shaped you and the work you do now?
A: Not everyone in life will learn from the things they go through. It will either make them better or bitter. I chose to let it make me better. It has helped me to learn from other people's mistakes and their successes, which have contributed to the husband, the father and leader that I am today.
Q: What motivates you to continue working with foster teens?

A: My motivation is love and compassion, not forgetting where I came from and what I went through. I do my best to do my part to be a breath of fresh air and to inspire these children that there is always hope and someone who loves them with no strings attached.
Q: There is so much information about foster care out there, and not much of it is positive. What would you like prospective foster parents to know about the system? Any myth-busting?
A: Not all foster care systems are created equal. It depends on the quality of people involved, the support of the people in the community and its local government.
Many do not know that when a child reaches a certain age, he or she "ages out" of the system, and are literally on their own in the world.

Some people invest in the stock market and some invest in mutual funds or 401ks, etc., but one of the greatest investments one can make is in the life of another person who needs love, care, hope and a home. The return is priceless. Being a foster parent can be exciting, challenging, yet rewarding, when entered into for the right reason. There may be some uncertainty at first, but once you get over the fear only growth and rewards come. Count the cost before building this bridge, and then build it and cross over with confidence successfully.
5K Walk Benefits Foster Youth